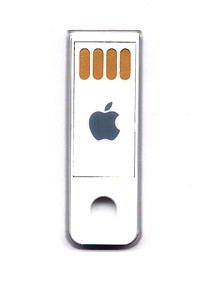 The new MacBook Air is every bit as elegant in person as it appears on TV. When the shipment arrived this morning, I got right to configuration so I could take it on my trip tomorrow to PhotoPlus Expo in New York.
The typical Mac OS X apps were already loaded (including iLife '11) and backed up on the Software Reinstall USB Flash drive. No more DVDs. First app that I loaded was Aperture 3.1 to see how it would run on the Air. After transferring my photo library and testing for a short period of time, the MacBook Air handled Aperture just fine, even with a connected USB hard drive for my referenced files. I'll have more on this in an upcoming post. But for now, I feel confident going to New York with just the Air, even though I'm on assignment for Lowepro.
Physically speaking, I'm impressed with the keyboard. It's solid and comfortable to type on. It's not backlit, and I'm not surprised considering the thinness of this laptop. The 1440x900 backlit display is plenty bright. I actually have the brightness backed off a bit in normal room lighting. Photographs look terrific on the MacBook Air.
"Instant On" is definitely for real. When I open the laptop lid, rousing it from sleep, the screen illuminates after about a 1 second delay. Close enough to instant for me.
In general, performance is very snappy. I have the 13" 2.13 GHz model with 4 GBs of 1067 MHz DDR3 RAM. It's perfectly quiet, solid, and I think it's going to be fun to have on this New York assignment. Stay tuned for more.
---