This is one of the easiest ways to add location information to any photo, captured with any camera. Just open the image in Photos for OS X, and follow the simple steps that I show you in this movie from Photos for OS X Essential Training on lynda.com.
By doing so, not only are you adding geotags to your pictures, but Photos also recognizes this information for search. So, for example, if you add geotags to the MGM Grand Hotel in Las Vegas, you can also search for images using any of those labels.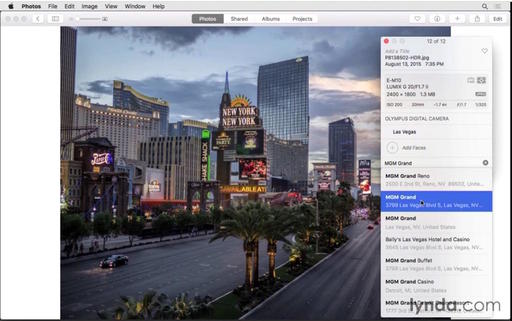 If you prefer articles to videos, you might want to read my How to Geotag in El Capitan Photos App. And for other hands-on tutorials, be sure to take a look at Photos for OS X Essential Training on lynda.com.
More Help and Insights on Photos for OS X
Don't forget about the Photos for OS X Special Feature Section on The Digital Story. It's a roundup of tutorials, videos, and articles focused on helping you master Apple's latest photo management software. You can also find it under Photography in the top nav bar.
Want to Comment on this Post?
You can share your thoughts at the TDS Facebook page, where I'll post this story for discussion.