This is The Digital Story Podcast #826, Jan. 18, 2022. Today's theme is "Lessons in Composition - A Visit to the Banksy Exhibit." I'm Derrick Story.
Opening Monologue
The Art of Banksy is touring in San Francisco right now, with its next stop in Denver. I spent the morning sharpening my eye admiring the work of the famous street artist. In addition to just downright enjoyable, there were many takeaways for my street photography as well. I'll share those thoughts on today's TDS Podcast.
Digital Photography Podcast 826
Tune-In Via Your Favorite Podcast App!

---

Apple Podcasts -- Spotify Podcasts -- Stitcher

Podbean Podcasts -- Podbay FM -- Tune In
Lessons in Composition - A Visit to the Banksy Exhibit
The Art of Banksy exhibit is currently showing at the Palace of the Fine Arts in San Francisco through February 27th. Attending it is a win/win for street photographers.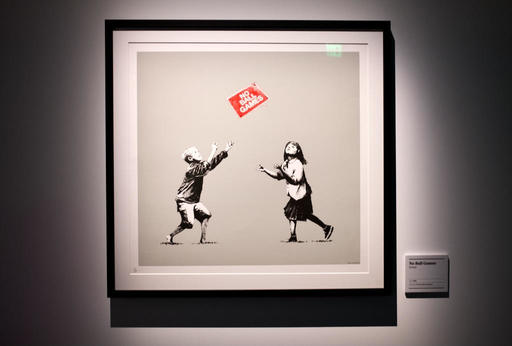 "No Ball Games" by Banksy. Displayed at the Art of Banksy exhibit in San Francisco, CA.
First, you have the location itself. The grounds at the Palace of the Fine Arts are spectacular with many opportunities for candid photographs. Then you have the works of Banksy that are provocative, humorous, and stimulating for those looking to create engaging urban art. And then if that wasn't enough, you would wander off into The City itself for a day street photography.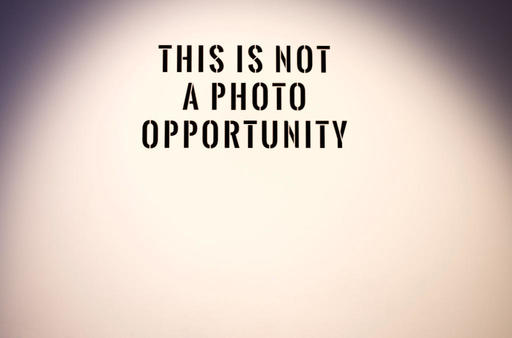 From the Art of Banksy exhibit in San Francisco, CA.
I came away from the show with some excellent reminders for my camera work. Here are my top of mind takeaways.
The Power of Simple Compositions - Banksy works are immediately accessible, but you can linger on them at length as well.

The Judicious Use of Color - Most Banksy works are black plus one color, and that color is used with great care.

Humor and Satire Turbocharge the Effect - Not only are the images visually appealing, but then they stimulate other parts of the brain with their humor and satire.
As a photographer, thinking about this work helps us ask the question before we press the shutter button, "What is this picture about?" Trying to create a clean composition with intelligent use of color and having it tell a story are excellent goals to help us improve our pictures.
The Art of Banksy exhibit is runs in San Francisco through Feb. 27, 2022, then opens in Denver on April 14, 2022.
Apple AirTags for Photographers
Over the years, I've stashed business cards in my camera pouches in case I left gear behind (which I've done) in the hope that an honest person would contact me if found. Now, thanks to AirTags, they will "call" me if I wander too far away from my devices. This is a remarkable improvement.
I have a 4-pack of Apple AirTags. I've put two of them to use, and I'm still contemplating how to use the others. Currently, one of the active units is in my everyday backpack, and the second one is in my Peak Field Pouch 2 that I use for urban photography with the Fujifilm X100V. And after a couple weeks of use, I can tell you that I'm never going back to life without them.
I particularly like an AirTag in the Field Pouch because I'm more likely to accidentally leave it behind if I get distracted at a coffee shop or set the bag down on location. Did I leave it at the studio? Is it in the car? Maybe it's at home?
I can find the answer to these questions instantly by opening the Find My app on the iPhone and tapping on the Items tab at the bottom. Both of my AirTags are displayed on the screen, each with their current location. (I've grayed out the actual address that would be displayed on my phone.)
And I've taken it a step further by configuring them to notify me if too great a distance comes between us.
The tag in my Field Pouch fits snugly in one of the memory card sleeves. I never have to fiddle with it. It's never in the way. The battery is replaceable, so this is a quality investment that will serve me well for years. And they work really well!
I have instructions for setting up AirTags here.
The 2022 TDS Workshop Season
We have great events lined up for this year, and there are a few more coming. Here's a recap of what we have so far:
March 2022 - Writing for Online Publishing (online) Toying with changing this workshop to Hybrid Instant Photography, Both Analog and Digital.
April 2022 - Humboldt Redwoods Workshop (physical)
May 2022 - Infrared Photography Workshop (online event)
August 2022 - Ultimate B&W Photography Workshop (online)
Sept. 2022 - Eastern Sierra Photo Workshop (physical)
Nov. 2022 - Oregon Coast Photography Workshop (physical)
You can learn more about all of these events and register by visiting TheNimblePhotographer.com.
Magic iPhone Photo Trick -- Soften the Background, After the Shot!
You can read the entire article on CodeX.
This is one of my favorite iPhone techniques, and I will explain how to use it in this segment of the show.
Virtual Camera Club News
Inner Circle Members: A big thanks to those who support our podcast and our efforts!
My Writing on Medium.com: I now have 51 published articles on Medium.com. And if you haven't visited the site, and enjoy good writing on a variety of topics, I suggest that you may want to take a look. You can just go to the home page and enter "Derrick Story" in the search field. And if you like what you read, then follow me!
The New Donation Kit for Carefree Shipping of Found Film Cameras - If you've discovered a film camera that's no longer being used, our new Donation Kit makes it easy to pack and ship. Just visit the Contact Form on thenimblephotographer.com, click the box next to Donating a Film Camera, and let me know what you have. In your note, be sure to include your shipping address.
Affiliate Links - The links to some products in this podcast contain an affiliate code that credits The Digital Story for any purchases made from B&H Photo and Amazon via that click-through. Depending on the purchase, we may receive some financial compensation.
Red River Paper - And finally, be sure to visit our friends at Red River Paper for all of your inkjet supply needs.
See you next week!
You can share your thoughts at the TDS Facebook page, where I'll post this story for discussion.