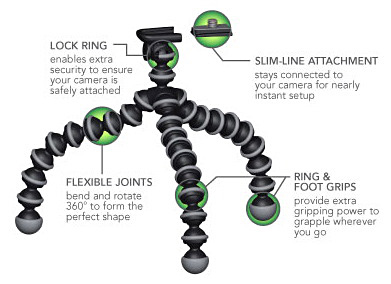 I'm a big fan of portable, sturdy tripods, and I have a decent collection of three-legged critters that I use regularly. During the holidays, I received a new addition to my stable, my first Gorillapod -- the original model. And I'm having a blast with it.
The original model, which is also the smallest, is perfect for my Canon PowerShot SD 700IS. It's a 150mm tall (6") and only weighs 45g (1.6 oz). Yet this little creature can steady your camera (up to 275 grams - 9.7 oz). in just about location -- from table top to tree limb. The legs are constructed of 10 flexible joints that enable you to quickly position your camera in just seconds. You even get a nifty quick-release head so you don't have to screw and unscrew every time you want to mount the camera.
You can purchase the original Gorillapod for $21.95, and the larger sizes for DSLRs for $40 and $50 each. The Joby site has a fun photo gallery of Gorillapods in action. In fact, there's even a flickr gallery called Gorillapod Love dedicated to these little beasties. Good pictures and good fun.
Technorati Tags: digital photography, product review, The Digital Story
---
Sponsor Note...
ExpoDisc Custom White Balance -- Simply Better Color. Simply Better Pictures. Visit www.expodisc.com