This is The Digital Story Podcast #889, April 4, 2023. Today's theme is "Why Being Good is Great." I'm Derrick Story.
Opening Monologue
It feels like we live in a world of extremes right now. Big successes and tragic failures dominate our headlines, and often our approach to work and creative pursuits. The goal is to be great, to be admired as the best, to be on top. That's fine if it happens. But my observation is that folks who are good at what they do seem to be happier. How could that be? Find out on today's TDS Photography Podcast. I hope you enjoy the show.
Digital Photography Podcast 889
Tune-In Via Your Favorite Podcast App!

---

Apple Podcasts -- Spotify Podcasts -- Stitcher

Podbean Podcasts -- Podbay FM -- Tune In
Why Being Good is Great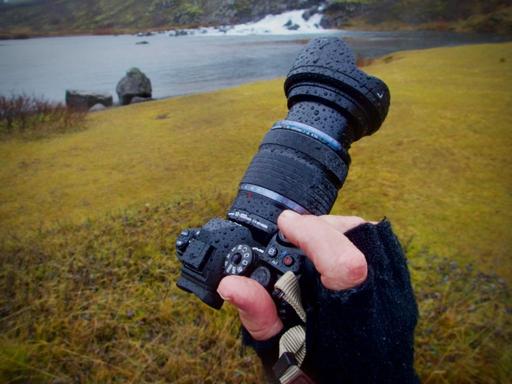 I think the easiest way to begin this discussion is with a look at my own career. Then we can meander from there.
I am good at a few things. I'm a good writer, photographer, podcaster, educator, and musician. But, I am not great at any of these.
Most likely, I will never win a Pulitzer Prize, hang a show in a museum, win a broadcasting award, accept a professorship at Harvard, or write a Top 10 song. And yet, I am wildly happy.
But how could that be? By every measure of pinnacle success, I have fallen short. Do I not have the appropriate fire in my gut to climb the mountain of fame and fortune? Am I short on talent? Maybe I just don't work hard enough.
All of those may be true. But I don't think that's my problem. My issue is that I like being good at what I do. When I publish an effective article, make someone smile during a podcast, see someone's eyes sparkle when they learn something new in class, or giggle at one of my silly songs, I feel good. Maybe I have a small glass of whiskey before dinner. Watch something interesting on TV afterward. Then sleep like a baby.
I think the achievement of being good at what you do is undervalued. I marvel at people who are good at things that I am not. I appreciate the plumber who fixes my sink in a fraction of the time that it would take me to do so. I know that am not good at plumbing.
Doctors who prolong my vitality, administrators who fix bureaucratic mistakes, a food server who manages to overcome the shortcomings of the chef she has to work with that night - these are all people who are good at what they do. And they are the folks who make the world a better place.
In our world of photography and creativity, what does being good actually mean? I have 5 bullet points that you may find helpful. Being a good photographer means:
You have learned how to operate your camera so it is a natural extension of your vision, not a distraction.

You have learned how to adapt to different photo situations, know how to adjust your camera accordingly, to produce a good image, even if outside your normal comfort zone.

You can adjust your pictures in an image editor to improve them, and do so in a reasonable amount of time.

You can look at someone else's picture, recognize the effective aspects of it, and identify, if present, areas that may need improvement.

Others recognize you as a capable photographer, converse with you as such, and appreciate some of the work that you've produced.
If you are accomplished in these five categories, you are a good photographer. And if you continue to work on your craft, you will become better.
Does this mean that if you try even harder you will become great. Who knows? And what difference does it make?
What's important to me, and I suspect this may be true for you as well, is that others respect my work. If I overhear someone say, "Yeah, he's a pretty good writer," I'm ready to celebrate with a couple tacos and a cold beer.
I like being good at what I do. I sleep well at night. And I try to see the admirable capabilities in others. I think some of the happiest people on earth are those who understand they are good at what they do.
This is why, I say, being good is great.
Digicam Finder is a New Resource That Replaces DPReview's Camera Library
You can read the entire article on PetaPixel.com.
Digicam Finder is a new resource that has successfully ported over a huge amount of information from DPReview in an attempt to keep a historical record of every digital camera released since the early 1990s alive.
Last month, after DPReview announced that it would cease operations on April 10 and eventually close, fans of the website scrambled to retain the site's massive library of content before it was deleted. One such endeavor kicked off almost immediately after the news broke and has already launched: Digicam Finder.
"Ever since the DPReview closure announcement there was a looming risk that we'll all lose the entirety of its 25 years of data," Peter Green, co-developer of the platform, tells PetaPixel.
Green, who is the co-founder of the private investment platform Republic, says that Digicam Finder is designed to be a new source of the most complete and accurate digital camera data on the Internet, which was built and maintained by him and a passionate group of users from the DPReview community.
"Many of us were thinking how to preserve [DPReview] and worked non-stop this past week. Well, now I'm happy to say that with the community effort, we managed to save it and it will keep being available for public access post-DPReview's closing," Green says.
Digicam Finder has mirrored the basic information of more than 2,500 digital cameras that date back to 1994. The site contains full specifications and is searchable by several parameters. Additionally, Green says that the site is built on "modern tech rails" that make it mobile-friendly and very fast to load -- both advantages over what he admits were some downsides to DPReview which he says felt "like a 25-year old website" at times.
Live View Is Launching Today
You may recall that a couple months ago I talked about a new publication I was working on for Medium.com called Live View, and I was looking for writers within our community.
It's now coming to life! Live View launches today with two stories, and will publish every Tuesday moving forward.
Our first article is by Cynthia A. Whelan titled, Why I'm an iPhoneographer (and why you might want to be one too.) Cynthia is an experienced photographer who attended my writing workshop in Dec. 2021. She's exploring the world in her rec van and will be sharing her findings on Live View.
The second article, Shooting Motorsports (how to make your images look fast) is by John Zachary. John is an experienced motor sports photographer who moved from lugging DSLRs to shooting with Fujifilm's mirrorless cameras. He says he's never been happier.
If you check out our publication and appreciate what you see, be sure to follow us and clap for those authors. You can find us at medium.com/live-view. Hope to see you there.
Photography cheat sheet: Color temperature & the Kelvin scale
You can read the entire article DigitalCameraWorld.com.
White balance, or WB, is necessary on cameras as light doesn't just vary in brightness, but also in color. Each light source has its own individual 'color temperature', which varies from red to blue as you move through the visible spectrum. Human vision is very good at compensating for this, so a sheet of white paper will look white whether it's viewed in daylight or by candlelight. It's the job of the camera's White Balance system to do the same thing and compensate for the color differences in the lighting, so the colors in a scene look exactly as we would expect.
Digital cameras have a wide range of options for controlling the White Balance to suit the color temperature of the light in the scene, including Automatic White Balance (AWB), which will cleverly look after all this for you. However, as with all your camera's automatic settings, the Auto White Balance isn't foolproof, and it may under-compensate for extreme conditions because it can only operate within a restricted range of temperatures.
Virtual Camera Club News
The Nimble Photographer Newsletter is now publishing every Thursday. Readers will enjoy a variety of content spanning from short photo essays, to commentary on weekly events, to reviews of the latest and coolest photo gear.
TDS Workshops! - You can sign up for available workshops by visiting The Nimble Photographer. Inner Circle Members receive a 10-percent discount on all events.
Inner Circle Members: A big thanks to those who support our podcast and our efforts! We are having a blast at our new Inner Circle hangout, the private group I've set up at DerrickStoryOnline. We'd love it if you join us. You can become an Inner Circle Member by signing up at our Patreon site. You will automatically be added to the new hangout.
My Writing on Medium.com: I now have 51 published articles on Medium.com. And if you haven't visited the site, and enjoy good writing on a variety of topics, I suggest that you may want to take a look. You can just go to the home page and enter "Derrick Story" in the search field. And if you like what you read, then follow me!
The New Donation Kit for Carefree Shipping of Found Film Cameras - If you've discovered a film camera that's no longer being used, our new Donation Kit makes it easy to pack and ship. Just visit the Contact Form on thenimblephotographer.com, click the box next to Donating a Film Camera, and let me know what you have. In your note, be sure to include your shipping address.
Affiliate Links - The links to some products in this podcast contain an affiliate code that credits The Digital Story for any purchases made from B&H Photo and Amazon via that click-through. Depending on the purchase, we may receive some financial compensation.
Red River Paper - And finally, be sure to visit our friends at Red River Paper for all of your inkjet supply needs.
See you next week!
You can share your thoughts at the TDS Facebook page, where I'll post this story for discussion.