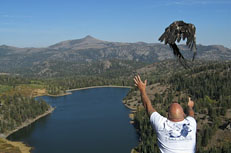 "I was out in California visiting my mother and sister, and we rode up from Roseville into the Sierras looking for fall scenery," writes TDS member Jim Stocking. "We came back through the Carson Pass, stopping just before the summit at the Red Lake Vista. To our astonishment, a car drove up with a young female eagle that they were releasing back to the wild. Armed with my wife's Canon SD850, which she let me use for the trip, I caught the shot of the bird making its way to freedom after being tossed into the air."
As Jim mentioned, he used a Canon PowerShot SD850 IS set to ISO 100 for this wonderful shot of the eagle being set free. The shutter speed was 1/400 and the aperture was f/8.
Photo by Jim Stocking. Click on image to zoom to larger size.
If you have a candid you'd like to share, take a look at our Submissions page, then send us your Grab Shot. We'll try to get it published for you on The Digital Story.
And you can view more images from our virtual camera club in the Member Photo Gallery.
---
-
---
Technorati Tags: candid, digital photography, grab shot, The Digital Story