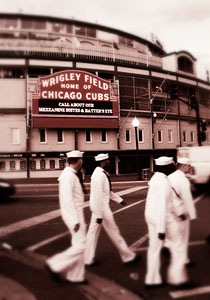 "On our way to the Chicago Diner for dinner," writes Rick Brandt, "we happened to get off at the Wrigley Field stop on Chicago's CTA line. Being a baseball fan and this being the first time I ever saw Wrigley in-person, I was compelled to walk the perimeter of the ballpark and take a few shots. This was several hours after a Saturday afternoon game had ended and there wasn't a whole lot going on. The shots I was getting reflected such--very tourist-like."
"Then I saw this group of sailors heading for the corner. I backed up a bit to frame up the famous sign and leave room for the sailors to walk through the frame, and made the photograph. I recorded the shot with a Canon G9. Post-processed it with Aperture and Nik Software's Viveza and Color Efex Pro."
Photo by Rick Brandt. Click on image to zoom to larger size.
If you have a candid you'd like to share, take a look at our Submissions page, then send us your Grab Shot. We'll try to get it published for you on The Digital Story.
And you can view more images from our virtual camera club in the Member Photo Gallery.
---
-
---
Technorati Tags: candid, digital photography, grab shot, The Digital Story