A week from today many of us will be watching the WWDC keynote on our Apple TVs. Most folks will be listening for what's new in their favorite area of technology. For myself, I'm keenly interested in the next chapter of digital photography with Apple tools.
In many ways, I feel like we've been putting together a jigsaw puzzle the last couple years. The evolution of iPhone cameras, iOS photography apps, iCloud, and Mac-based software have all been spread out on a table while we try to figure out how to assemble them.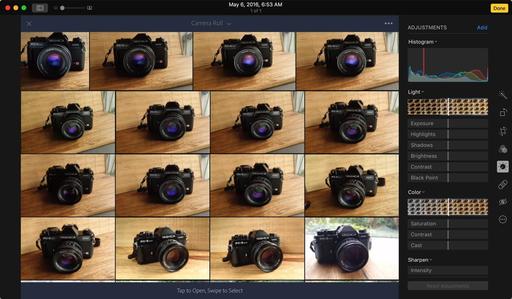 The missing piece has been Photos for OS X. Although a lovely application in its own right, it's hardly the Aperture/iPhone replacement that enthusiast photographers were hoping for... at least at first.
The emergence of Editing Extensions has provided much-needed functionality for adjusting our pictures. And depending on which extensions you have available on your Mac, you can do everything from retouching a portrait to creating an HDR landscape. Add robust iCloud connectivity, and the pieces are truly beginning to make sense.
So what's missing? What I and many others will be hoping for on Monday, June 13 is improved digital asset management. Simply marking a picture as a favorite isn't adequate. If Photos for OS X is ever going to become that software that's it's capable of, then Apple needs to address the front end of post production.
It's then next chapter that I want to write for my book. And if Apple provides that missing piece, the picture that we've been hoping to see should be worth the wait.
The Apple Photos Book for Photographers
For photographers who are more than just casual snapshooters, or who are making the transition from Aperture or iPhoto, The Apple Photos Book for Photographers shines a light on the sophistication of this app and the ecosystem it taps into. Available as an eBook now, and coming to print later this year.
Want to Comment on this Post?
You can share your thoughts at the TDS Facebook page, where I'll post this story for discussion.