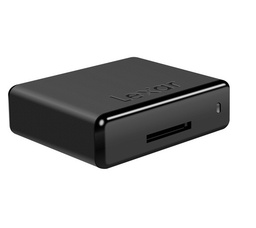 I had an interesting talk with the folks at Lexar today and learned about their new UHS-I and UHS-II SD memory cards.
Currently, I'm more interested in the UHS-I cards because none of my cameras are UHS-2 compatible anyway. But the Lexar UHS-II cards also have UHS-I controllers, so they match up well with my existing cameras and will perform great in the future.
I like the 32 GB Lexar Pro 1000X UHS 2 U3 SDHC ($46) and the 64 GB Lexar Pro 1000X UHS 2 U3 SDHC ($80).
Now for many of us, the most noticeable benefit of these SD cards comes when we're downloading images to our computers. A full 32 or 64 GB card can take a while to offload all those RAW files and videos. To maximize this speed (and the return on your investment), get a compatible card reader.
With these speedy memory cards, a USB cable or your computer's built-in card reader won't be as fast as a tuned unit.
A good choice is the Lexar Professional USB 3.0 Dual-Slot Reader ($28) or the Lexar Professional Workflow SR1 Card Reader for SDHC/SDXC cards ($21). A matched card reader has a tuned controller that maximizes throughput from memory card to computer. A tandem like that can increase speed up to 8X compared to a USB 2 cable transfer.
One other thing. The drive in your computer is part of this recipe. If you have a fast SSD drive, then the flow of data can be quite speedy with this setup. A slower spinning hard drive does impact potential performance.
Want to Comment on this Post?
You can share your thoughts at the TDS Facebook page, where I'll post this story for discussion.