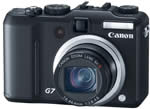 In a recent review on Photography Blog, the Canon PowerShot G7 earned high praise, with the reviewer commenting that "Though I'd hate to use the word great, in almost all aspects the Canon G7 is certainly very, very good. If I had to choose a back up compact for an SLR, the Canon PowerShot G7 would currently top the list. Superb. If you haven't yet submitted your list to Santa, or want a new toy to play with to beat those post-festive blues, seek out this sophisticated contender for some serious results."
The G7 is a 10-megapixel beauty that fits in your coat pocket, but offers big features such as a 2.5" LCD, 6X optical zoom, image stabilizer, DIGIC III processor, 80-1600 ISO range, and just about every camera control you'd find on a standard DSLR.
As I've mentioned before, there is no RAW mode, and the LCD is now fixed to the back of the camera: two features that I miss from earlier models in the Canon G series. But I've talked to two photographers who own the camera, plus have read a handful of reviews such as the recent one on Photography Blog, and this camera is resonating with users. I can tell you one thing, it feels good to hold. And the images it produces are terrific. But I have to say, I really want RAW mode on a camera of this caliber.
Technorati Tags: digital photography, product review, The Digital Story