This is The Digital Story Podcast #540, July 12, 2016. Today's theme is "Nimble HQ Video." I'm Derrick Story.
Opening Monologue
Video isn't so bad. If you didn't have to worry about loads of equipment, frame rate, humongous files, crappy audio, a plethora of formats, or compression algorithms, it would be a piece of cake. I might not be able to help you with everything on this list, but I can share with you my nimble video kit that will lighten your load. It's what I use for commercial interviews.
Nimble HQ Video
Back when I was designing this recording kit, I wanted the same nimbleosity rating for my movie gear that I enjoy for still photography. Thanks to some careful selection, and advances in technology, I have a kit that produces professional results and won't break the bank, or your back.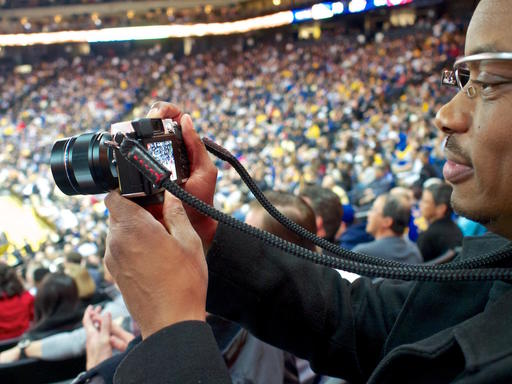 Olympus OM-D E-M5 Mark II $1,099 - Since I never have to shoot 4K, this camera works fantastic. I pair it with the Panasonic Lumix G X Vario 12-35mm f/2.8 Asph. Lens, which is on sale now for $300 off ($699), for a killer combination. If I needed 4K, I would probably opt for the Panasonic Lumix DMC-GH4 that's currently on sale for $1,297.

Olympus HLD-8G External Grip ($113) - What's clever about this grip is that it includes a headphone jack with volume control. I find this invaluable for both recording and reviewing my video segments.

Shure VP83F LensHopper Shotgun Microphone with Integrated Flash Recorder ($299) - I've tested a number of shotgun mics for field recording, and this is my favorite. It's easy to use, super compact, takes AA batteries, has a headphone jack, and most importantly, it has its own audio recorder that saves to a micro SD card.

Genaray LED-7100T 312 LED Variable-Color On-Camera Light ($189) - Super compact, comes with a diffusion panel that attaches via magnets, variable color temp between 3200K and 5600K, two battery configuration with external power capability. It puts out 1400 LUX, yet measures only 7.5 x 4.5 x 1.75" and weighs less than a pound.

Induro AKP0 Adventure Series Tripod w/ 3-Way Pan Head Kit ($75) - This excellent set of sticks is currently on sale for less than half price ($90 off) and is my current favorite brand for full sized tripods.
In the News
Elevating X-Trans? Fuji film X-T2 First Impressions Review via DP Review.
The Fujifilm X-T2 is an updated version of the company's top-level DSLR-shaped APS-C camera. It's built around the same 24MP X-Trans sensor as the X-Pro2 but ends up being much more than an X-T1 with more pixels. Instead, the X-T2 is a camera that does much to address the X-System's remaining weaknesses, which can only broaden its already considerable appeal.
Key features include:
24MP X-Trans CMOS III sensor
325 AF points (169 of which offer phase detection)
AF point selection joystick
2.36M-dot OLED EVF with 0.005 sec refresh time (60 fps or 100 fps in boost mode)
3" 1.04M-dot articulating LCD
4K UHD video at up to 30 fps for up to 10 min (30 min with booster grip)
F-Log flat profile and 4K out over HDMI
8 fps continuous shooting with AF (11 fps with booster grip)
5 fps continuous shooting with live view updates between capture
Dual SD card slots (UHS-II compatible)
USB 3.0 socket
The camera is expected in Sept. 2016 for $1,599.
The Nimble Photographer Podcast and Patreon
I've set up a
Patreon account
to support The Digital Story, The Nimble Photographer, and theAnalogstory. For patrons who pledge $5 a month or more (all handled seamlessly by Patreon), they will receive access to Season 1 of The Nimble Photographer Podcast.
The first episode is waiting for you right now. The second show goes live this coming Friday, July 15. It's title, "Baggage."
I hope you become a patron of The Digital Story, and I look forward to hearing what you think of The Nimble Photographer Podcast. The URL is: www.patreon.com/thedigitalstory
Do You Have an Analog Story to Share?
If so, please send the text and up to 6 pictures to theanalogstory@gmail.com.
Updates and Such
Just Released!: The Apple Photos Book for Photographers
You can get your eBook copy of The Apple Photos Book for Photographers for $15 by using the checkout coupon: APPLE15. That saves your 5$ off the price.
And finally, be sure to visit our friends at Red River Paper for all of your inkjet supply needs.
See you next week!
More Ways to Participate
Want to share photos and talk with other members in our virtual camera club? Check out our Flickr Public Group. And from those images, I choose the TDS Member Photo of the Day.
Podcast Sponsors
Red River Paper - Keep up with the world of inkjet printing, and win free paper, by liking Red River Paper on Facebook.
MacPaw Creators of CleanMyMac 3 and other great software for Apple computers. Visit www.macpaw.com today.
Hedge for Mac - The fast solution for moving photos and videos from memory cards to drives, or drives to drives for that matter. Learn more at Hedge for Mac.
inkdot Metal Prints Brilliant, affordable, and archival. Visit ink dot.com/metal-prints today.
The Nimbleosity Report
Do you want to keep up with the best content from The Digital Story and The Nimble Photographer? Sign up for The Nimbleosity Report, and receive highlights twice-a-month in a single page newsletter. Be a part of our community!
Want to Comment on this Post?
You can share your thoughts at the TDS Facebook page, where I'll post this story for discussion.