The Keystone correction tool can be found in the Capture One's Lens Correction tab, and it's definitely worth a look. It makes it easy to straighten both vertical and horizontal converging lines - the types of distortion that we often encounter when photographing buildings from ground level.
Generally speaking, I use it to correct vertical lines. In this short movie, you can see exactly how it works.
Straighten lines with Keystone Correction from Capture One Pro 11 Essential Training by Derrick Story
Not only does this tool work well, it's not difficult to figure it out. And just like everything else in Capture One Pro, it's non-destructive. So you can go back at any time to readjust the picture. And by using it, you can correct an everyday snapshot (such as the iPhone shot below) into a pretty nice photograph.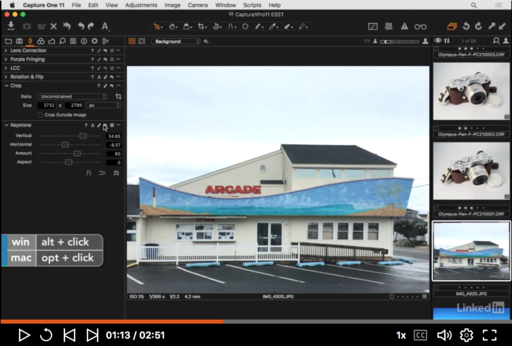 This video is from my new course titled, Capture One Pro 11 Essential Training on LinkedIn Learning. You can also tune in on lynda.com if you prefer your training there. Either way, I have four hours of entertaining education that will help you master this excellent photo management and editing application.
You can share your thoughts at the TDS Facebook page, where I'll post this story for discussion.