Aperture Exporter is a new app written by Adrian Grah designed to ease the pain of moving your library to Lightroom.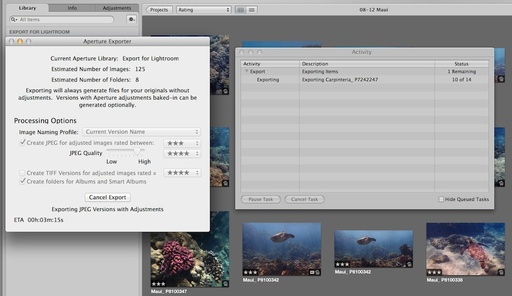 Aperture Exporter in action.
In my latest article for c't Digital Photography Magazine, Aperture Exporter - A Utility to Move Your Library to Lightroom, I share comments from Adrian and explain in detail how this application works. In essence, AE helps you extract content from your Aperture library and save it in a structure that's easily consumable by Lightroom.
After my first few rounds of testing, I estimate that this utility can easily cut your migration time in half, if not more. Aperture Exporter is still in beta, and Adrian is committed to improving it. So as user feedback rolls in, we'll see the app evolve even more.
If you're considering a move to Lightroom, be sure to take a look at this article first.
Aperture Tips and Techniques
To learn the finer points of Aperture to help you prepare your library for transition, check out my Aperture 3.3 Essential Training (2012) on lynda.com. Also, take a look at our Aperture 3 Learning Center. Tons of free content about how to get the most out of Aperture.
---
The Digital Story on Facebook -- discussion, outstanding images from the TDS community, and inside information. Join our celebration of great photography!
---