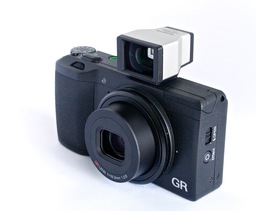 This week on The Digital Story show: the Ricoh GR compact camera with APS-C sensor, Photo Help Desk question of the week, and packing for Oahu -- All of this and more in today's photography podcast.
Story #1 - I've just started testing the Ricoh GR compact camera that features a 16.2MP APS-C format CMOS sensor, no optical low-pass filter, 3" 1,230k-dot White Magic LCD screen, fixed 28mm f/2.8 lens, 1080p video, Magnesium alloy body, and plenty of bells and whistles.
The LCD screen works great, even in bright light. But I've added my Olympus VF-1 optical viewfinder (as shown in the illustration) that allows me to shoot with the LCD turned off.
Image quality is outstanding. And the entire package weighs less than 9 ounces. I talk about my first trip with the Ricoh GR, and why I'll be packing it on my next.
Story #2 - Photo Help Desk Question of the Week: Do I Need to Understand Elements and Groups to Buy a Lens? Answer: You don't. Key lens features that are important include maximum aperture, image stabilization (yes or now), physical qualities, distortion, chromatic aberration, and sharpness - all of which you can get from a good review.
Story #3 - Packing for Oahu. I'm going to try the new Lowepro Photo Sport Shoulder 18L that has a removable camera insert, room for a 10" iPad, lots of pockets, and a sporty, stylish look.
Inside the bag I'll pack the Olympus TG-1, Ricoh GR, and FujiFilm X20. I'll also include the iPad mini.
Listen to the Podcast
In addition to subscribing in iTunes, you can also download the podcast here (29 minutes). You can support this podcast by purchasing the TDS iPhone App for only $2.99 from the Apple App Store.
Monthly Photo Assignment
The July 2013 photo assignment is Duality.
More Ways to Participate
Want to share photos and talk with other members in our virtual camera club? Check out our Flickr Public Group. And from those images, I choose the TDS Member Photo of the Day.
---
iPad for Digital Photographers
If you love mobile photography like I do, then you'll enjoy iPad for Digital Photographers
-- now available in print, Kindle, and iBooks versions.
Podcast Sponsors
Red River Paper -- Keep up with the world of inkjet printing, and win free paper, by liking Red River Paper on Facebook.
Make Your Photos Sizzle with Color! -- SizzlPix is like High Definition TV for your photography.Special Summer Sale! Just add "TDS: in the comments space of your SizzlPix! order, and you will get 20 percent off the entire order. Limited time offer. Take advantage now.
Need a New Photo Bag? Check out the Lowepro Specialty Store on The Digital Story and use discount code LP20 to save 20% at check out.
Want to Comment on this Post?
You can share your thoughts at the TDS Facebook page, where I'll post this story for discussion.