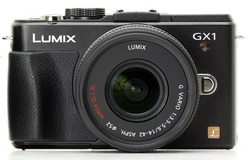 When trying to decide which Compact System Camera (CSC) is the best for you, one to consider is the Panasonic Lumix DMC-GX1,
our current favorite of the Panasonic offerings. And DP Review seems to like it too, giving it a "Strong Silver" award in their recent review of the GX1.
Features such as the 16 MP sensor, compact form quality, and robust build construction impressed reviewer Amadou Diallo. It's a handsome little guy too. Our own Ed Shields published his field test of the GX1 citing, "It feels great in the hand, has lots of external controls, an intuitive menu system, and excellent RAW image quality."
As you survey the world of CSCs, certainly this one is worth consideration.
---
The Digital Story on Facebook -- discussion, outstanding images from the TDS community, and inside information. Join our celebration of great photography!
---