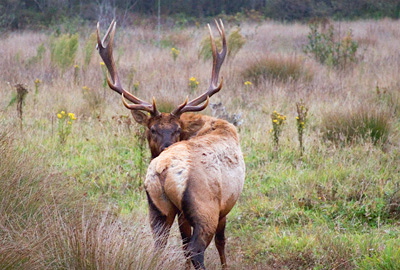 Elk captured at dusk in meadow with Canon 5D set to ISO 1600.
Sometimes nature presents you with a great shot... but in less than ideal lighting. This was the case with this Tule Elk I discovered in a meadow at twilight. His beautiful antlers (14 points!) were easily discernible with my eyes, but even at ISO 1600, my Canon 5D needed a slowish 1/15 of a second at f-5.6. Without the ability to use a high ISO, I never could have captured this shot.
In a future podcast I'm going to discuss image sensor size and its relationship to usable images at high ISOs.
Technorati Tags: image, photography, technique, tips