Photographers who want to use the latest image editing technology with their existing workflow may want to take a look at Luminar Flex ($70), that offers the power of Luminar 3 in a plugin format for Lightroom, Photoshop, Photos for macOS, and Aperture.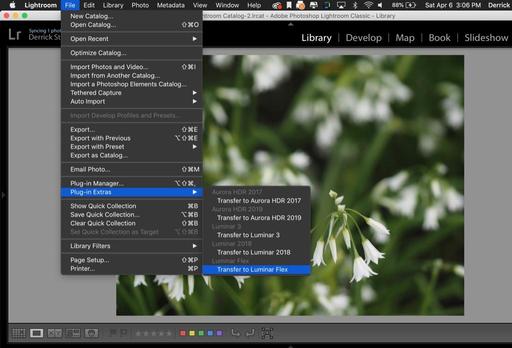 Once installed, Luminar Flex is accessible via Plugins in Lightroom Classic.
The Luminar Flex Experience
If you've worked with Luminar in the past, you'll feel right at home with Flex. It's essentially Luminar 3 without the organizer. (More on its strengths later.) As the two products continue to evolve, Flex with be the plugin version, and Luminar 3 will be the editor with the organizer, but without plugin functionality. Current registered users of Luminar 3 will receive Flex 1.0 for free. But up the road, they will be separate products.
I've tested Flex with Photos for macOS and Lightroom. With Photos, it's an editing extension and very straightforward to use. With Lightroom Classic, the first step is to make sure the plugin is installed. Luminar will give you that option with you first launch Flex, which I did as a standalone app. (This was the only time I opened it as a standalone.) There's also an Install Plugins option in the top menu bar for Flex.
Once Flex has been installed as a plugin for Lightroom, you can access it via the normal way you tap other plugins. In my case, I go to File > Plugin Extras. (See the first illustration.)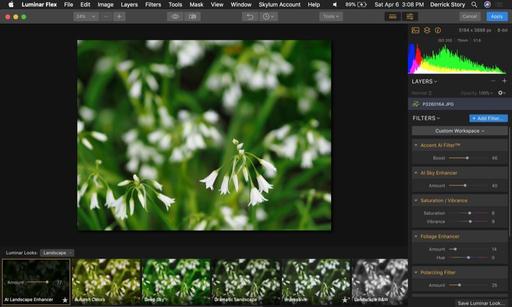 Luminar Flex interface via Lightroom. Click the Apply button in the upper right to return the edited photo to Lightroom.
Next, load a Lightroom image in Luminar Flex. Now you can use all of its tools including, filters, looks (there are some new ones), and layers. When you have the image to your liking, click on the Apply button for the edited image to return to your Lightroom library. After that, you have both versions available: the original image and the Luminar-edited one.
Two usage notes: First, my images always returned from Flex in the Tiff format, regardless of what settings I made in Lightroom preferences. I may be missing something somewhere, but I wanted to mention it in case you were having the same experience. And second, I noticed that my IPTC metadata was removed from the file upon return. This will definitely need to be fixed in an update.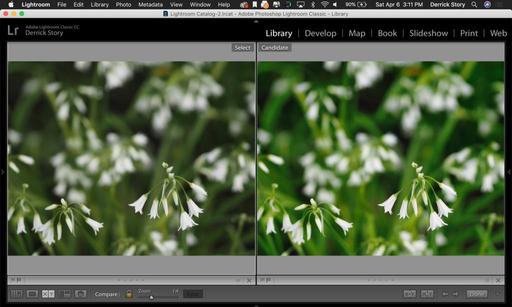 Images side-by-side in the Lightroom library - the original on the left and the returned image from Luminar Flex on the right.
Luminar Flex Moving Forward
Up until this point, Luminar users have received some of these plugins as part of the overall package. So, if you're running Luminar 2018 or Luminar 3, you may already have this capability, depending on your host app. But if I understand Skylum correctly, this will change up the road. Luminar with Libraries will evolve as a standalone image editor and organizer. Luminar Flex will take a different path as an enhancement fine-tuned to existing workflows with Photoshop, Lightroom, Photos, and Aperture.
So, for the current Luminar user, what exactly are the advantages of using Luminar Flex? According to Skylum, they include:
An easier installer for plugins.
An updated install path for improved compatibility with Adobe software.
Support for Photoshop Elements on Windows.
Support for re-editing smart objects and picking up where you left off.
Support for Photoshop Actions.
A faster workflow, optimized for plugin users.
New Luminar looks.
New workspaces for designed for task-based workflows.
Also, if you are a current Luminar user, and have downloaded additional Looks, you can use them with Flex as well. Looks that you made or used in Luminar 3 or Luminar 2018 are compatible with the new app. You can either reinstall your custom Looks packs in Flex, or manually copy items between the Luminar Looks folders.
Luminar Flex is available now for $70 for new users and as a free download for registered Luminar 3 and Luminar 2018 photographers. (From Skylum: "All current customers will receive a free license to Luminar Flex Plugin. If you own Luminar 2018 or Luminar 3, you get a free version of Luminar Flex, just check the My Software section in your Skylum account.).
My recommendation is that if you can download a free copy, do so and test it. If you haven't started using Luminar yet because you don't want to migrate away from your current workflow, Luminar Flex might be a good solution. I use Luminar with both Lightroom and Photos, and it really adds depth to my workflow. To be honest, I can do things in Luminar that I just can't with other applications.
You can share your thoughts at the TDS Facebook page, where I'll post this story for discussion.