This is The Digital Story Podcast #689, May 28, 2019. Today's theme is "Gettin' Ready for Summer." I'm Derrick Story.
Opening Monologue
The fast approaching Summer season means more for photographers than just swapping our wardrobe in the closet. Our gear changes as well. And some of the items that I suggest might surprise you, even more than Uncle Bob's flamboyant Hawaiian shirt. So break out the sunblock and don your shades - it's time to get ready for long days and warm nights.
Gettin' Ready for Summer
What does Summer mean for me? Longer days, impossible mid-day lighting, more bike rides, travel, hiking, and outdoor events. Here are five items that you should get ready for this most active of all seasons.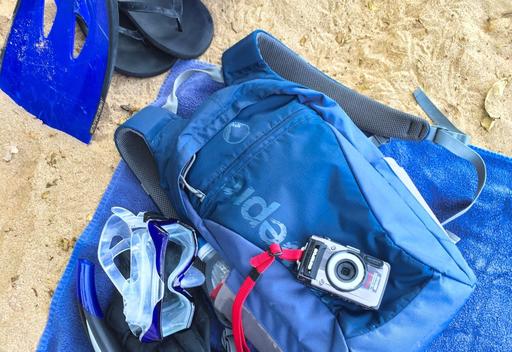 Polarizers and ND Filters - Not only do we have to tone down reflections and deepen our blue skies, but there are times when I want to shoot at a wider aperture in bright lighting. These filters are a must-pack this time of year.

Fill Flash - I bet this one surprised you. But whether it's a backyard birthday party, graduation ceremony, or afternoon wedding reception, you're going to want a fill flash for those outdoor portraits. See my To Fill Flash or Not; That is the Question for more details. Also, my current favorite nimble fill flash is the Metz mecablitz 26 AF-2 Flash $129 for Sony, Nikon, Canon, Fuji, Olympus, Panasonic, Leica, and Pentax.

Collapsable Diffusers and Reflectors - I had to use a diffuser the other day for a 1pm portrait assignment outside, and there's now way I could have pulled it off as quickly or beautifully without it. It's our best option to tame the sun when there's no shade to be found.

A Pocketable All-Weather Camera - I have the new Olympus Tough TG-6 camera on order for this travel season. There's now way I'm packing my PEN-F in my board shorts. A quality, tough camera is ready when you are, regardless of the environment.

Shades, Hat, Sunblock, and Water - You have to protect yourself and be comfortable if want those creative juices to flow. Find yourself a water bottle that works with your kit and keep it filled. Make sure sunblock is in your bag at all times. And keep that head protected. Take care of your body and the wonderful images will follow.
If you have additional tips, please share them on our Facebook page where I'll post the podcast announcement.
Show Off Your Gallery on Your Smartphone
Most of us spend more time on our smartphones than we do on our computers. So it only makes sense to have your Portfoliobox gallery just a tap away.
iPhone users can accomplish this by visiting their Portfoliobox site in the Safari browser. Then tap on the Share icon at the bottom of the interface. Choose "Add to Home Screen" in the options presented. Now your gallery will have its own "tap and launch" position on your iPhone's home screen.
Android users have essentially the same process. Launch Google Chrome browser app. (Just tap on the Google Chrome icon on your home screen or app drawer.) Go to the website you want to save. Enter the website in the search/text bar and press "Enter." Tap on the Menu button. Tap "Add to Home Screen.
Portfoliobox sites are designed to look great on your smartphones. Take a look, and I think you'll like what you see.
Present your best self online and on your phone with a Portfoliobox site. To create your own Portfoliobox site, click on the tile or use this link to get started. If you upgrade to a Pro site, you'll save 20 percent off the $83 annual price.
160 Camera-friendly Canadian airport cuts holes in perimeter fence for aviation photographers
You can read the entire article here.
Québec City Jean Lesage International Airport, often shortened to Jean Lesage International Airport, has made camera holes in a range of locations around its perimeter fence to allow photographers an unhindered view of planes taking off, landing and moving along its runways and taxi areas.
The airport has propelled itself to the number one spot for aviation photographers with the project. Metal frames surround the holes to prevent wire scratching lenses and accompanying signs to clarify the area is reserved for photographers.
The airport got together with local plane-spotting group YQB Aviation to identify the best angles for photographers and then created a total of 10 sites all around the airport that provide views of exactly what photographers want to shoot, seen in the image below.
Do You Have a Film Camera that Needs a Good Home?
Over the last year, I've received donations from TDS members who have film cameras that need a good home. What I do is inspect the items, repair and clean as I can, then list them in TheFilmCameraShop where I can find a good home for them. If you're interested in donating, please use the Contact Form on TheNimblePhotographer site. And thanks for you consideration!
Updates and Such
Inner Circle Members: A big thanks to those who support our podcast and our efforts!
B&H and Amazon tiles on www.thedigitalstory. If you click on them first, you're helping to support this podcast. And speaking of supporting this show, and big thanks to our Patreon Inner Circle members:
And finally, be sure to visit our friends at Red River Paper for all of your inkjet supply needs.
See you next week!
More Ways to Participate
Want to share photos and talk with other members in our virtual camera club? Check out our Flickr Public Group. And from those images, I choose the TDS Member Photo of the Day.
Podcast Sponsors
Red River Paper - Keep up with the world of inkjet printing, and win free paper, by liking Red River Paper on Facebook.
Portfoliobox - Your PortfolioBox site is the best way to show off your best images.
The Nimbleosity Report
Do you want to keep up with the best content from The Digital Story and The Nimble Photographer? Sign up for The Nimbleosity Report, and receive highlights twice-a-month in a single page newsletter. Be a part of our community!
Want to Comment on this Post?
You can share your thoughts at the TDS Facebook page, where I'll post this story for discussion.