Filterstorm Pro strives to solve a number of problems for the nimble photographer working on an iPad or iPad 2. It provides a true library environment, complete with star ratings so you can organize your shoot. It handles Raw files with relative ease, even on the original iPad. And there's IPTC support and batch processing -- overall, a step forward in many areas for photo management on a tablet device.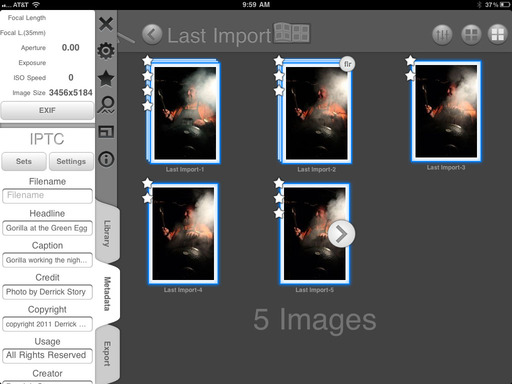 I ran a basic test with Filterstorm Pro from a recent photo shoot where I shot Raw with a Canon 60D. The beginning workflow went like this:
Connected memory card to iPad using Camera Connection Kit.
Opened thumbnails the Photos app - I imported 5 Raw files.
Swiched to FilterStorm and choose Import iPad Photos.
Imported the selected album that had all 5 images.
Browsed the images in the Filterstrom library and rated them.
Added IPTC metadata such as copyright, caption, creator, etc.
Applied image edits.
Exported favorite photo to Flickr according to my specifications.
Unfortunately, Filterstorm could not provide EXIF data for my 60D Raws, other than the image size - 3456x5184. I was, however, able to add IPTC metadata to entire batch of photos at once. I could also create template sets to speed up this process in the future. Another nice touch is the ability to add a watermark.
The image editing went fairly well. I actually think this is the weakest area of the application. There are no Levels controls or a histogram to work with (or if there is a histogram, I couldn't find it). There are no Shadows or Highlights controls per se. The curves function works well, but not everyone likes using curves. You do have masking controls if you want them. The Add Exposure control did not seem to work properly for me, or maybe I just didn't understand how to use it. It should be straightforward.
Once I finished, my edited images were put in a stack with the original and displayed in the library.
Export allowed me to send to the images to my Photos library on the iPad, email, Flickr, Dropbox, or FTP. Exporting from Filterstorm Pro went well, and the IPTC data I added traveled with the photo. In the future, I have to remember to clear the various IPTC fields, or that data will be applied to subsequent photos.
Pros
True library environment for managing photo shoots on an iPad
Works with both iPad and iPad2
Raw file processing, even with high resolution cameras such as the Canon 60D
IPTC metadata management
Stable application that did not crash during testing
Batch processing is helpful
Cons
Image editing controls lack histogram, levels, shadow and highlight recovery
No EXIF data for certain Raw files, such as those from Canon 60D
Still a few rough edges, but those should be smoothed out in future updates
Bottom Line
Filterstorm Pro is a breakthrough app for the iPad. For the first time, I can process and manage Raw files on a first generation iPad. Being able to add IPTC metadata is a big plus, especially coupled with the flexible export options.
These features do come at a price, however. Filterstorm Pro will cost you $14.99 in the US. And I believe it could still use some improvement in the image editing functions, if it is indeed going to be your complete environment on the iPad the way Aperture or Lightroom serve us on our computers.
That being said, this is a true robust nimble photographer application.
Nimbleosity Rating: 4 (out of five possible)
More Nimble Photographer Articles
Revisiting a Wireless Workflow from Camera to iPad
Adobe Launches Carousel for Mobile Photography on iPhone, iPad, and Mac
Minimal Folio for iPad: Truly Useful Portfolio and Presentation App
Return of the Nimble Photographer
Nik Software Brings Its Magic to the iPad with Snapseed
Putting Eye-Fi "Direct Mode" to the Test
M.I.C. CF Card Reader for the iPad: Does it Work?
Eye-Fi Card, iPad, and ShutterSnitch for Wireless Transfer
How to Create and Deliver Content for the iPad
Acme Made iPad Cases for Style and Protection
Will the iPad Squish my Photos?
Bluetooth Keyboard and iPad - A Powerful Combination
Turn Your iPad into a Live Camera
Lowepro Classified 160 AW is Perfect Bag for iPad Toting Photographers
"iPad for Photographers" - Digital Photography Podcast 219
---
The Digital Story on Facebook -- discussion, outstanding images from the TDS community, and inside information. Join our celebration of great photography!
---