Have you wondered if a $39 lens could be any good? Such is the case with the Olympus 15mm f/8.0 body cap lens that we first saw back at Photokina. And now, DP Review has put it on the bench and filed the report, Olympus Body Cap Lens 15mm F8 review.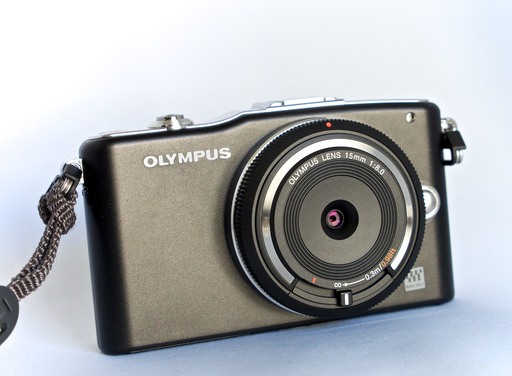 Body Lens Cap on an Olympus Pen mini. Be sure the lever lines up perfectly with the white dot when shooting. Improper position shown here. (Move just a bit more to the right!)
Their bottom line? "The Body Cap Lens 15mm F8 isn't the kind of lens that's ever going to do well in technical testing, or satisfy photographers who like to look at their images in fine detail or print them large... What the 15mm does offer, though, is the ability to turn a Micro Four Thirds body into a tiny package that's ready shoot at the flick of a lever, and capture images which are good enough for social sharing, or as a basis for further manipulation, such as with in-camera filters."
Personally, I like it as, well, a body cap. I keep it on my second camera, the Pen Mini, so it takes up very little space in my camera bag. If I need to grab a quick shot, the body cap lens gets the job done until I have a few moments to mount the "proper" lens I want to use. And at $39, I've paid more for a lens hood.
---
Join me on my Instagram site as I explore the world of mobile photography. And now Instagram features 15-second movies too.
Want to Comment on this Post?
You can share your thoughts at the TDS Facebook page, where I'll post this story for discussion.