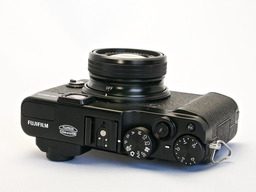 I've been packing the Fujifilm X20 digital camera ($599) since its release earlier this year, and my overriding impression is that it's a photographer's camera. The design, control layout, lens, optical viewfinder, and creative capabilities are for those who love and understand the art of image making.
In my latest TechHive article, Feed your creativity with the Fujifilm X20 compact camera, I talk about using the X20's film simulation mode, in-camera Raw procession, pro focus for soft backgrounds, and infrared. Those happen to be on my list of top creative features of this gem of a compact.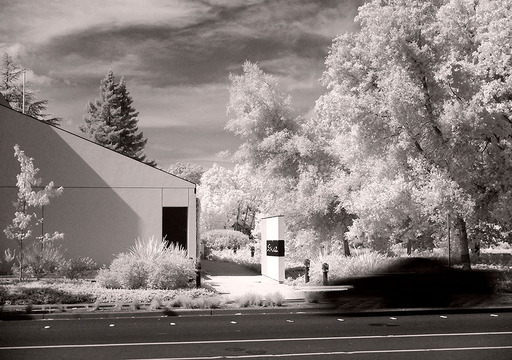 Schulz Museum capture with FujiFilm X20 and an R72 filter. Photos by Derrick Story
My Top 5 Features for Creative Photographers
In-camera Raw processing - you can shoot your "master files" in Raw, then process them in-camera drawing from the X20's feature set, including all of the film simulation modes and push/pull processing. Save the processed image as a high quality Jpeg and share online immediately (using my mobile workflow that I cover at the end of this post). No muss, no fuss.
Pro Focus - in the Advanced Settings you have access to the Pro Focus mode that allows you to create soft backgrounds. This is especially helpful for portraits outdoors. It's very clever.
Film simulation modes - if you've ever shot with Velvia or Provia emulsions, you know how important the subtle qualities in their rendering can be. Now you have that artistic control in the X20. Plus you have B&W film simulation modes too, which are quite beautiful.
Infrared - some cameras accept the infrared R72 filter better than others. The FujiFilm X20 is one of those cameras. I love shooting infrared B&W with the camera.
Macro mode - the X20 has an outstanding macro mode that lets you explore the details of your subjects. Getting super close is sometimes the ticket to an exciting shot.
And finally, having an high quality optical viewfinder on a compact camera with a fast f/2-f/2.8 is a photographer's delight.
Currently I'm using it with the Eye-Fi Mobi 16GB SDHC wireless card and sending pictures wirelessly from the X20 to my iPad mini for publishing immediately online. Here's an example from my wanderings yesterday. I used the B&W film simulation mode on the X20, sent the image to the iPad via the Eye-Fi mobi, processed it in iPhoto for iOS, then published the photo directly to Flickr.
---
iPad for Digital Photographers
If you love mobile photography like I do, then you'll enjoy iPad for Digital Photographers
-- now available in print, Kindle, and iBooks versions.
Want to Comment on this Post?
You can share your thoughts at the TDS Facebook page, where I'll post this story for discussion.