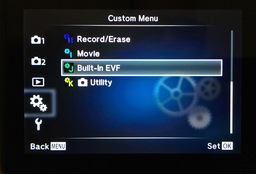 Personally, I like electronic viewfinders. And part of the reason why I enjoy composing with them is because I can calibrate the view to better match the results that I actually see afterward on the camera's LCD.
Olympus OM-Ds actually provide a fair amount of control for their EVFs. I just went through the process again while setting up my new Olympus OM-D E-M10 Mark II. These adjustments also work with other OM-D bodies.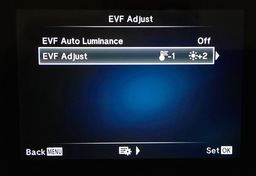 Press the Menu button and navigate to the Gear tab and choose Gear J Built-In EVF.
While in the Gear J submenu, scroll down to EVF Adjust.
Inside EVF Adjust, set EVF Auto Luminance to "Off".
Move down to the manual adjust submenu, and as a starting point, try -1 for temperature and +2 for luminance. Press OK.
Compose a photo through the EVF and take a picture. Compare the rendered image to what you saw through the viewfinder. Adjust accordingly to fine tune.
I've found that this process is easier if I change Rec View to 2 seconds. That way I can take the picture then seen the image follow right there in the EVF. Rec View is located in the Wrench Menu at the bottom of the general Setup Menu.
A new option with the Olympus OM-D E-M10 Mark II is the Simulated Optical Viewfinder. It's listed as S-OVF in Gear J. The intent of S-OVF is to simulate what your eyes would see in real life. It's great for those who want to bring a little of the DSLR experience to mirrorless.
When you enable S-OVF, realtime exposure compensation feedback is disabled, much like shooting with your DSLR. You have to look at the rendered image to see if you nailed it. The way I use S-OVF is that I programmed the Fn3 button to toggle it on and off. So when I'm evaluating a scene through the EVF, I can look at it a couple different ways.
I think you'll like your camera even more after customizing these adjustments to your personal tastes. And I've found that it makes my results even more predictable.
The Nimbleosity Report
Do you want to keep up with the best content from The Digital Story and The Nimble Photographer? Sign up for The Nimbleosity Report, and receive highlights twice-a-month in a single page newsletter. Be a part of our community!
Want to Comment on this Post?
You can share your thoughts at the TDS Facebook page, where I'll post this story for discussion.