"My dog Daisy is a frequent model for me," writes Gabrielle Rhodes, "but sometimes our sessions go a little long and she gets bored. This week I caught her in the middle of a full yawn."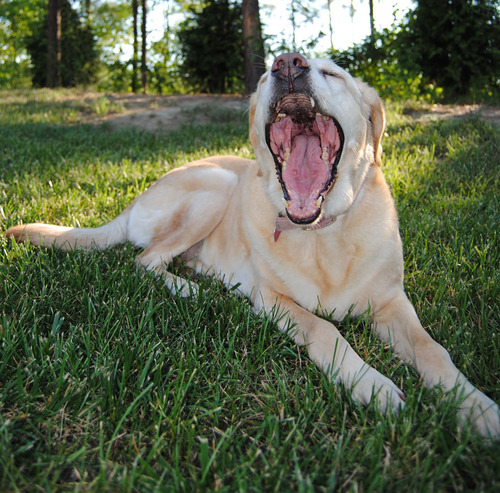 Photo by Gabrielle Rhodes. Click on image for larger version.
Gabrielle captured The Big Yawn with a Nikon D3000 and a 18-55mm zoom lens. ISO was set to 100, and fill flash was on.
If you have a candid you'd like to share, take a look at our Submissions page, then send us your Grab Shot. We'll try to get it published for you on The Digital Story.
And you can view more images from our virtual camera club in the Member Photo Gallery.
---
The Digital Story Podcast App is the best way to stream or download weekly TDS podcast episodes. No more syncing your iPhone or iPod Touch just to get a podcast. And there's more! Tap the Extras button for free passes and discounts and the current Grab Shot by our virtual camera club members. Each podcast episode has its own Extras button, too, that contains more goodies such as pro photo tips. And the best part is, The Digital Story Podcast App is your way to help support this show.Download it today!
---