Sunday, May 14th is Mother's Day. And I'm guessing that if you're lucky enough to still have Mom in your life, that you want to do something nice for her... maybe create a fine art card to give her?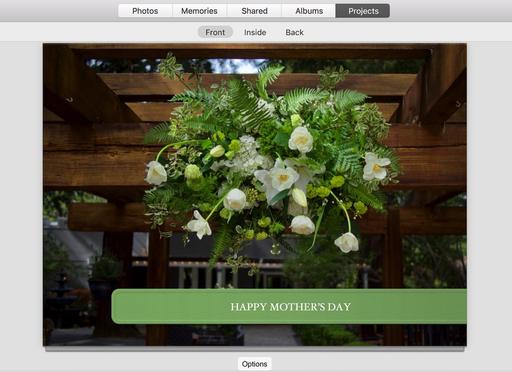 I use Photos for macOS to create all of my fine art cards. And because I'm a good son, I just mailed this year's version to Mom. Here's how I did it.
Open Photos for macOS and choose a picture for the cover of your card.
Click on the + icon in the top toolbar and choose "Card."
Design your card, starting with one of the Mother's Day templates in the application.
Order your card and have it sent directly to her, or print it out yourself.
If you're printing it yourself, use the Print command in Photos for macOS, and output one side at a time. (Then turn it over and print the other side.)
I printed mine on Red River Paper 60lb. Polar Matte 7x10 card stock (Item #1958) using my Epson R2000 inkjet printer. The card folds nicely to 5" x 7", with a lovely design inside and out.
I have more detailed printing instructions in my Apple Photos Book for Photographers. It's worth doing. They look great. And if you've never tried your hand at creating your own fine art cards, I can't think of a better time to start.
(Happy Mother's Day, Mom!)
Book or Videos: Photos for macOS
Explore the world of modern photography with my The Apple Photos Book for Photographers that features insightful text and beautiful illustrations.
And if you'd like to cozy up to a video at the same time, watch my latest lynda title, Photos for macOS Essential Training
You can share your thoughts at the TDS Facebook page, where I'll post this story for discussion.