My phobia of color wheels began back in the original Final Cut days. I would look at them, then devise any other method to make the correction. And it wasn't until Capture One Pro that I overcame my prejudice and learned that they are truly helpful... and easy.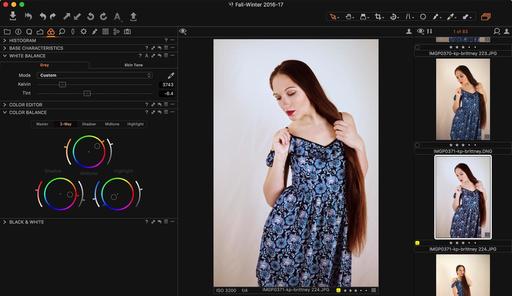 Fine tuning a portrait shoot with Color Balance in Capture One Pro. Photo by Derrick Story.
Currently, I'm in the middle of recording a Capture One 10 title for lynda.com. (My existing Capture One Pro 9 Essential Training is very popular, and we wanted to integrate the new features.
When I finished the movie on Color Balance, I had to laugh at myself. It's so fun. What was my problem before? So I thought that if you shared my previous phobia, this should help. Here are the basic controls for each of the color wheels.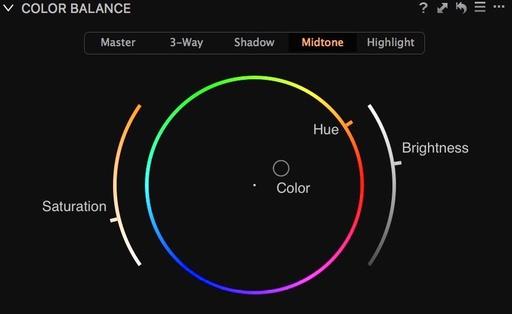 The midtone adjustment in the Color Balance panel of Capture One Pro.
Drag the point in the middle of the circle to change the color. This could cover the entire image with the Master color balance, or the basic tonal areas with Shadow, Midtone, and Highlight wheels.
The tiny handle on the edge of the color wheel is to fine-tune the hue.
Once you set the color you want, use the left side slider to adjust saturation.
The right side slider is for brightness.
Start by choosing the Color you want to shift to in the shadows, midtones, or highlights, then fine tune it with the Hue handle. Next, work the Saturation slider until the effect is exactly to your taste, then finish off with Brightness. It's easy! And the effects are amazing.
To see the Before and After, hold down the Option/Alt key and click on the Reset arrow in the Color Balance panel. That will show you the image without your adjustments. Let go of the mouse, and your adjustments will appear again.
Start with a simple image to practice. Once you get the hang of it, you'll be visiting the Color Balance adjustment on a regular basis... and dramatically improving your images along the way.
More Capture One Pro Tips and Techniques
Improve your skills by watching Capture One Pro Essential Training now available on lynda.com. More than 5 hours of tips, tricks, and techniques. Plus many free movies using advanced techniques.
I've also created a dedicated Capture One Pro Training page on The Digital Story. You can follow all of the tips and techniques that I publish in one convenient spot.
Thinking About Making the Transition from Aperture or Lightroom? - Download my free eBook titled, Rocky Nook's Guide to Moving to Capture One Pro. I show you the steps to create a test library, then build the foundation for a smooth transition to Capture One Pro.
Want to Comment on this Post?
You can share your thoughts at the TDS Facebook page, where I'll post this story for discussion.