Luminar 1.3.2 is a free update for existing users and rolls out a number of tantalizing features. At the top of the list is the new AI Sky Enhancer.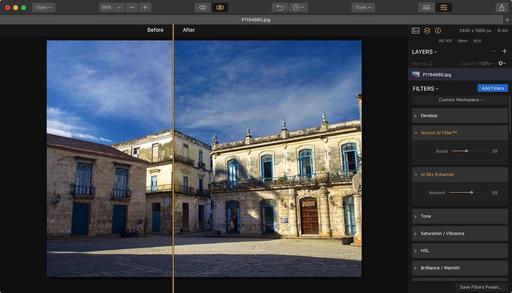 The AI Sky Enhancer allows you to get beautiful skies almost instantly with artificial intelligence and a single slider. Luminar analyzes and detects the sky in an image to improve the texture, tone, and colors of the sky itself. The filter can recognize sky in most photos as well as distinguish between water and other elements in a photograph. It also detects the objects in the foreground and their edges for perfect masking.
If the controls are grayed out after applying the filter, the artificial intelligence couldn't recognize the sky in the photo. Skies that are very out of focus or blurred may not be detected automatically. It may also be grayed out if the filter determines that the sky does not need enhancement. If you want to stylize the sky, explore filters such as Golden Hour, Polarizer, Vibrancy, and HSL.
Also included in the update are:
IMPROVED Luminosity Masks. Improved performance when opening up existing documents with Luminosity masks.
IMPROVED TIFF Files. Increased stability exporting TIFF files with 8 bits per channel bit depth.
IMPROVED Filters B&W Conversion, Bi-Color Toning, Photo Filter. The controls Luminance and Saturation are available when these filters are added a second time.
IMPROVED Grain effect. All filters and Looks which include Grain effect work properly. IMPROVED Speed of sliders.
IMPROVED Crop tool in Photos Extension.
IMPROVED Crop Tool. Properly see a gridview while changing the angle of the image in Crop tool.
One thing that has been removed is the sharing to Facebook and Twitter. Due to the recent changes in personal security with Facebook and Twitter, the ability to post directly to a social network from Luminar has been temporarily removed for users on MacOS Mojave.
Overall, this is a terrific update. I've been playing with the tools on both macOS High Sierra and Mojave, and everything has run smoothly.
If you're not a Luminar user yet, you can get it now for $59. It includes all of the new features, plus you will also receive the new digital asset manager, Luminar Library, for free when it's released in December.
Rock Luminar with my Essential Training
You learn all the ins and outs of Luminar 2018 via my Essential Training on lynda.com and on LinkedIn Learning. It's fun, and I promise, you will learn a lot.
You can share your thoughts at the TDS Facebook page, where I'll post this story for discussion.