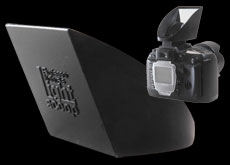 Most of our DSLR's have pop up flashes, and most of us aren't using them as often as we would like. Why? Primarily because they produce harsh, unflattering tones. But a new $29.99 accessory called the Lightscoop could change that. Here's how Professor Kobre explains it.
Professor Kobre's Lightscoop slips over your Nikon, Sigma, Pentax, Fuji FinePix, or Canon camera's pop-up flash and allows you to bounce the flash like professionals bounce an expensive external flash. The Lightscoop is the inexpensive answer to natural looking bounce flash and digital photography lighting. (Even professionals like it for casual shooting!).
And the best news? My Canon XTi is on the compatibility list...
Technorati Tags: digital photography, DSLR, Technology, The Digital Story