This week on The Digital Story Photography Podcast: 5 Tips to Energize Your Portraits, New Camera Tech for Next iPhone?, Tip to Make Clients Happy - all of this and more on today's show with Derrick Story.
Weekly Update - "Apple's dual-camera technology rumored to be nearing completion". DP Connect reports: "Apple has been working on the dual-lens technology for three years, but until recently has been hindered by a number of issues, including image blur and supplier inadequacies. LinX's processing technologies may have solved those blurring problems, and Apple is said to have found a supplier for the components that is able to meet its production demands." Who knows if this will be ready for the next iPhone.
In other news... "Firmware 4.0 for the Fujifilm X-T1 Improves the Autofocus" The Phoblographer reports: "The Fujifilm X-T1 doesn't have terrible focusing performance to begin with, but now they're stating that it's much better than it was before. The new firmware 4.00 includes new wide and tracking methods as well as performance boosts to single AF point focusing. For portrait photographers, the camera will now have an Eye Detection focusing option too."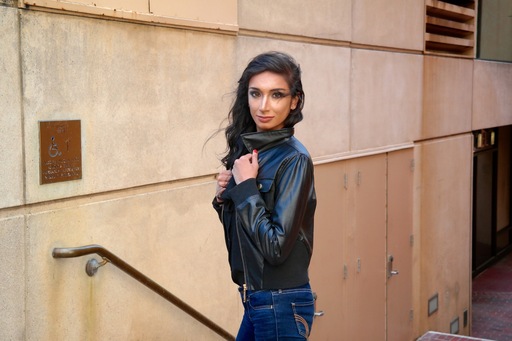 Story #1 - "5 Tips to Energize Your Portraits" -
Most subjects tighten up when you point a camera in their direction. Here are 5 tips to breath life back in to your portraits.
One foot or the other.
Burst mode.
Twist and shout.
Give them confidence.
Change the scene.
Story #2 - "The Visual Shot List"
Here's how it works. The client figures out what type of images they want for a particular shoot. Then they research stock photography (they have an account) to find samples that come as close as possible to their ideas. They build the shot list with pictures and text.
Then, before the shoot, we have a phone conference to discuss the shot list. As a team, we look at the stock photos and talk about how "this comes close, but what we'd like is a little brighter background," and details like that.
Story #3 - From the Screening Room - Introducing Photoshop: Photography with Deke McClelland.
You can watch Deke in action by visiting the TDS Screening Room at lynda.com. While you're there, you can start your 7 day free trial to watch all of Deke's movies, plus every other title in the library (including over 20 by yours truly).
Virtual Camera Club News
Fall Color with Safari West: October 23-25, 2015 - Sonoma County has rolling hills covered in vineyards, beautiful trees, and gorgeous blue skies. What a prefect place to shoot Fall color and bolster your landscape library. But there's more. We include environmental portraiture with a professional model, and an exclusive African wildlife photo adventure at Safari West, led by a professional photographer, plus a few surprises. This is our longest running workshop of the season, and for good reason. Two full days plus pre-workshop reception, breakfast and lunch, excellent swag, professional model, private Safari West adventure with a pro photographer guide - all included for just $599.
Use the Send Me Info form to get all the details.
Moving from Aperture to Photos or Lightroom - August 7-8 - Now that Aperture will no longer be developed, many photographers are contemplating their next move. In this software workshop, we'll explore the two leading contenders: Photos (part of the Yosemite Update) and Adobe Lightroom. By the time we conclude, you'll have a much clearer idea about your photo management future. Two full days plus breakfast and lunch - all included for just $495.
Show Off with SizzlPix
Do you want to blow away friends and family with your photography? Then hang a 5k Ultra High Definition SizzlPix on the wall at home. You won't believe the comments.
Give it a try. They'll send Digital Story listeners and readers a free mini-proof before production; just put "proof first, TDS" in the comment space on the SizzlPix order page.
Save Money with Red River Paper
Did you know that Red River Paper has a Discounts and Clearance page? Ink, paper, greeting card stock, all at big savings.
Thanks to everyone who recently reviewed the TDS Podcast in iTunes!
BTW: If you're ordering through B&H or Amazon, please click on the respective ad tile under the Products header in the box half way down the 2nd column on thedigitalstory.com. That helps support the site.
Download the Show - MP3 Version
In addition to subscribing in iTunes, you can also download the podcast file here (33 minutes - MP3 version). You can support this podcast by purchasing the TDS iPhone App for only $2.99 from the Apple App Store.
More Ways to Participate
Want to share photos and talk with other members in our virtual camera club? Check out our Flickr Public Group. And from those images, I choose the TDS Member Photo of the Day.
Podcast Sponsors
lynda.com - Learn lighting, portraiture, Photoshop skills, and more from expert-taught videos at lynda.com/thedigitalstory.
Red River Paper -- Keep up with the world of inkjet printing, and win free paper, by liking Red River Paper on Facebook.
SizzlPix! - New 5k Ultra High Definition SizzlPix output for your photography. You've never seen your imagery look so good. SizzlPix.com.
Want to Comment on this Post?
You can share your thoughts at the TDS Facebook page, where I'll post this story for discussion.