This week on The Digital Story show: Robotic iPhone camera, cheap labor, September will be heaven for tech lovers - All of this and more on today's photography podcast.
Story #1 - Robotic iPhone camera: The Galileo robotic dock for iPhone opens up a new world of photography possibilities. I've been using the device for 24-hour home surveillance and to make killer 360 degree panoramas.
I secured a Galileo early through their Kickstarter fund raising. I've been testing two apps with it: AirBeam - Live HD video surveillance and motion detection ($3.99) and with DMD Panorama ($1.99). You can watch this short video of Galileo in action that I recorded at the TDS Studio. I explain what's going on here in the first segment of the show.
Story #2 - Cheap Labor: In my recent post, How to Capture Flattering Portraits in Harsh Light, I discuss the value of reflectors and diffusers for outdoor photography.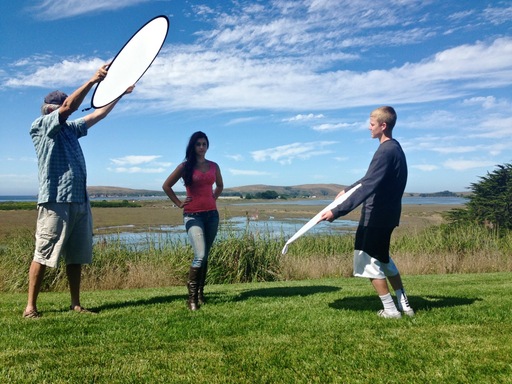 Can you spot the cheap labor in this shot? Photo by photographer Dennis Adams.
One TDS member commented that you need an extra set of hands to employ these techniques. It's true, you do. I had one such shoot this past weekend, a family portrait that I shot by myself. How did I use a reflector in these circumstances? Well, cheap labor is the answer. I explain in the second segment.
Story #3 - September Will Be Heaven for Tech Lovers: If you're a tech-loving, nimble photographer, then you may want to pay down your credit card balance this month. Because September is shaping up to be heaven (or hell, depending on your POV) for photography and technology.
Listen to the Podcast
In addition to subscribing in iTunes, you can also download the podcast here (27 minutes). You can support this podcast by purchasing the TDS iPhone App for only $2.99 from the Apple App Store.
Monthly Photo Assignment
The August 2013 photo assignment is Street Scene.
More Ways to Participate
Want to share photos and talk with other members in our virtual camera club? Check out our Flickr Public Group. And from those images, I choose the TDS Member Photo of the Day.
---
iPad for Digital Photographers
If you love mobile photography like I do, then you'll enjoy iPad for Digital Photographers
-- now available in print, Kindle, and iBooks versions.
Podcast Sponsors
Red River Paper -- Keep up with the world of inkjet printing, and win free paper, by liking Red River Paper on Facebook.
Make Your Photos Sizzle with Color! -- SizzlPix is like High Definition TV for your photography.Special Summer Sale! Just add "TDS: in the comments space of your SizzlPix! order, and you will get 20 percent off the entire order. Sale ends Sept. 21. Take advantage now.
Need a New Photo Bag? Check out the Lowepro Specialty Store on The Digital Story and use discount code LP20 to save 20% at check out.
Want to Comment on this Post?
You can share your thoughts at the TDS Facebook page, where I'll post this story for discussion.