This is The Digital Story Podcast #844, May 24, 2022. Today's theme is "How Much Fill Flash Do You Really Need?" I'm Derrick Story.
Opening Monologue
Fill flash is a fundamentally sound practice that improves portraits in many situations. But some photographers shy away from it because they don't want to carry a cumbersome hotshoe flash. But is there a nimble option that provides the desire results without adding bulk to your kit? There is, and that's the first story on today's TDS Photography Podcast. I hope you enjoy the show.
Digital Photography Podcast 844
Tune-In Via Your Favorite Podcast App!

---

Apple Podcasts -- Spotify Podcasts -- Stitcher

Podbean Podcasts -- Podbay FM -- Tune In
How Much Fill Flash Do You Really Need?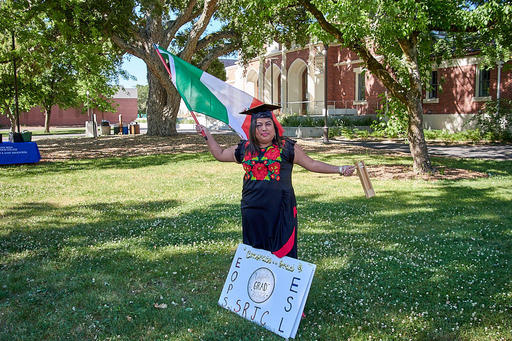 Fill flash used for this outdoor portrait. Photo by Derrick Story.
Believe me, no one dislikes excessive bulk more than me. And I got rid of my clumsy hotshoe flashes years ago. But I do carry a shirt pocket Metz 26 AF-2 that has saved my bacon time and time again.
How? By providing just enough fill light for backlit people when working outside. That's the beauty of fill light. You can hold on to some background tonality while still rendering a pleasant exposure on the main subject.
The thing that I've learned over time is that I only need a little fill light for this magic to work. And that has allowed me to rely on pop-up flashes and shirt-pocket sized accessories.
The magic begins by shooting everything in RAW. In contrasty situations, the fill does help balance the lighting, but it can still be a bit overpowered by the background. Shooting in RAW gives me the extra latitude I need to get all the tones balanced.
Next, raise the ISO. There's a world of difference in flash output at ISO 1600 compared to 200. If I'm not getting the results that I want at the lower ISOs, I have no problem increase the sensor's sensitivity. Today's cameras shoot beautifully at ISO 1600.
And finally, work with a short zoom lens to ensure you stay close enough to your subject. Most of my fill flash shots are between 28mm and 50mm. Not only do you get a more personal vibe at these focal lengths, you're close enough for your pocket-sized flash to reach.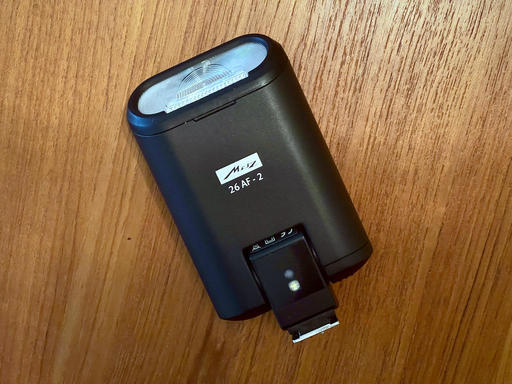 The Metz 26 AF-2 is a good example of a nimble fill flash.
The Metz 26 AF-2 has been discontinued. What a shame. But the MEIKE MK-320P Mini Flash is available for $69, and it too is super nimble.
Fit panasonic and Olympus or other M43 mount camera
Supports manual, ttl, optical slave(s1,s2),stroboscopic mode ,front/rear curtain-sync,overheating protection,automatic sleep mode
Built-in LED auxiliary lighting ,external USB interface
Weighs only 150g , small and easy to carry
Metal hot shoe , support ON-Camera and OFF-Camera Flash Triggering
You can also use the pop-up flash on your camera. And Olympus users receive a nifty, super-portable hotshoe flash in the box with their camera.
If you haven't been using fill light outdoors because you didn't want to carry a bunch of extra gear, give one of these options a try. I think you will be very please with the results.
The 2022 TDS Workshops Update
We have great events lined up for this year, and there are a few more coming. Here's a recap of what we have so far:
May 2022 - Infrared Photography Workshop (online event) - Sold Out
August 2022 - Ultimate B&W Photography Workshop (online) - Sold Out
Sept. 2022 - Eastern Sierra Photo Workshop (physical) - 2 Seats Available
Nov. 2022 - Oregon Coast Photography Workshop (physical) - 3 Seats Available
You can learn more about all of these events and register by visiting TheNimblePhotographer.com.
The Nine Volt AirCap Camera Body Cap Hides an Apple AirTag
You can read the entire article at PetaPixel.
Camera and computer accessory brand Nine Volt has created a camera body cap that on the surface looks normal, but secretly hides a slot to hold an Apple AirTag so that photographers can always locate their equipment.
In major cities, cameras are often targeted by thieves because of how quickly and easily they can be flipped for large sums of cash. In San Francisco, the problem is so rampant that some thieves not only target photographers in broad daylight (stealing from PetaPixel contributor Jefferson Graham and even local news crews) but they also have been caught breaking into cars while they're stuck in traffic.
A recent report showed that stolen equipment is often separated from bags and luggage within a few minutes of being stolen, so hiding an AirTag in the lining of a camera bag or Pelican case will only work for a very short amount of time. Nine Volt, a computer and camera accessory brand, recognized this problem and has come up with a solution.
Nine Volt says its AirCap is a carbon fiber composite camera body cap that is made to keep a photographer's camera sensor protected like a standard body cap, but it also includes a hidden rear compartment within the cap that holds an AirTag. The company says that the hidden compartment shows no obvious signs that it is removable and is secured with four strong neodymium magnets. To access the hidden compartment, a photographer needs to twist the inside of the AirCap to release the magnets and then invert the cap.
Nine Volt manufactures the Air Cap for Canon RF, Fujifilm GFX, Sony E, Nikon Z, Phase One XF, and PL mount. Each cap retails for $49 and the AirTag is not included. While similar-looking caps for lenses are visible in Nine Volt's Instagram video, the company doesn't seem to offer lens caps with an AirTag compartment.
The TIPA World Awards 2022
You can read the entire article at the TIPA website.
Founded in 1991, the Technical Image Press Association, TIPA, is composed of many member publications in the photo/imaging field published in print and online. These publications cover the full range of the industry, including consumer, professional, business-to-business, and fine art photography and imaging.
Member magazines and their online presence have wide reach and readership in many languages and cover markets around the world in Europe, Asia, Australia and North and South America.
Editors and their staff make up a global panel of knowledgeable experts who have earned a reputation for honest and trustworthy appraisal of photo and imaging products. Their magazines and websites have built a loyal following among their readers. Each member publication is engaged in the selection and final vote in the TIPA WORLD AWARDS process to name the Best Photo and Imaging products of the year.
Best MFT Camera: OM System OM-1.
Best APS-C Camera: Nikon Z fc.
Best Full Frame Expert Camera: Sony Alpha 7 IV.
Best Full Frame Professional Camera: Nikon Z9.
Best Camera Innovation: Canon EOS R3.
Best Rangefinder Camera: Leica M11.
Best Professional 4K Hybrid Camera: Panasonic LUMIX DC-GH6.
Best Medium Format Camera: Fujifilm GFX 50S II.
Virtual Camera Club News
Inner Circle Members: A big thanks to those who support our podcast and our efforts! We are having a blast at our new Inner Circle hangout, the private group I've set up at DerrickStoryOnline. We'd love it if you join us. You can become an Inner Circle Member by signing up at our Patreon site. You will automatically be added to the new hangout.
My Writing on Medium.com: I now have 51 published articles on Medium.com. And if you haven't visited the site, and enjoy good writing on a variety of topics, I suggest that you may want to take a look. You can just go to the home page and enter "Derrick Story" in the search field. And if you like what you read, then follow me!
The New Donation Kit for Carefree Shipping of Found Film Cameras - If you've discovered a film camera that's no longer being used, our new Donation Kit makes it easy to pack and ship. Just visit the Contact Form on thenimblephotographer.com, click the box next to Donating a Film Camera, and let me know what you have. In your note, be sure to include your shipping address.
Affiliate Links - The links to some products in this podcast contain an affiliate code that credits The Digital Story for any purchases made from B&H Photo and Amazon via that click-through. Depending on the purchase, we may receive some financial compensation.
Red River Paper - And finally, be sure to visit our friends at Red River Paper for all of your inkjet supply needs.
See you next week!
You can share your thoughts at the TDS Facebook page, where I'll post this story for discussion.