This is The Digital Story Podcast #868, November 8, 2022. Today's theme is "Fujifilm Muscles Up with the New XT-5." I'm Derrick Story.
Opening Monologue
Yes, the Fujifilm X-H2 and X-H2S are great cameras for those who need those capabilities, but for many of us who are more straight photography oriented, the X Series is what caused us to fall in love with brand in the first place. And now with the announcement of the X-T5, the affairs continues. We'll take a look at the new 40MP wonder, plus more stories, on today's TDS Photography Podcast. I hope you enjoy the show.
Digital Photography Podcast 868
Tune-In Via Your Favorite Podcast App!

---

Apple Podcasts -- Spotify Podcasts -- Stitcher

Podbean Podcasts -- Podbay FM -- Tune In
Fujifilm Muscles Up with the New XT-5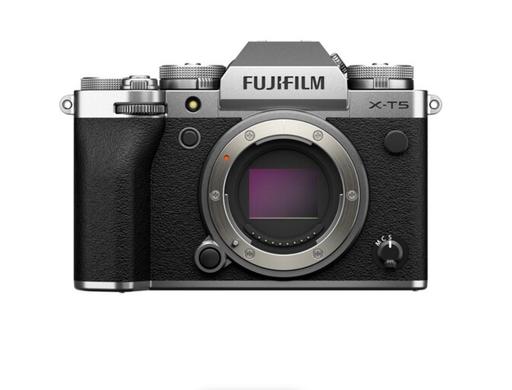 Let's start with an overview of the specs:
40MP APS-C X-Trans CMOS 5 HR BSI Sensor

4K 120p, 6.2K 30p, FHD 240p 10-Bit Video

7-Stop In-Body Image Stabilization

425-Point Intelligent Hybrid AF System

3.69m-Dot OLED Electronic Viewfinder

3" 1.84m-Dot Tilting Touchscreen LCD

20 fps E. Shutter, 15 fps Mech. Shutter

Improved Bluetooth and Wi-Fi connectivity

ProRes & Blackmagic RAW via HDMI

160MP Pixel Shift Multi-Shot
From B&H Explora - you can read the entire review here:
All of this is fine, but there are two and a half changes that I really noticed in my week of use. The first is a more robust grip: rather than the gradual slope of the XT-4, the hand rests along a steep wall that may not be much deeper than its predecessor but feels more secure in the hand. It was the first thing I noticed when I picked the camera up, and it's felt good every time since.
The other change is one I'm personally more conflicted about, but it's also something others will undoubtedly celebrate: the removal of the flip-out vari-angle screen. That particular feature is now the exclusive domain of the X-H series, where the functional benefit for video types (like me) will be universally worth the usability downgrade for photo types (like me). I was content to make that trade-off with the X-T4, but I know many resented it, and those folks will be quite happy with FUJIFILM's return to the 3-way tilt mechanism of the X-T3. This means that you can get your high- and low-angle photography without affecting the camera's rotational center of gravity: you don't need to compensate for the additional weight sticking out the left side, and you do feel that in your day to day. Additionally, that third "tilt," where the screen completely detaches on one side from the main mechanism, gives additional flexibility while shooting off-angle portraiture.
The biggest change to the XT-5 isn't visible: The X-Trans 5 looks just like its predecessor, but it is a milestone in APS-C engineering. The 40MP sensor means a massive 53% jump in pixel count, marking the largest increase the line has seen and may ever see. In fact, the X-Trans 5 sensor is the highest-resolution APS-C sensor on the market, period.
I love my X-T4 the same way I loved my X-T3 before it and the X-T2 before that but, once again, FUJIFILM has come out with a camera that's made me take a long, hard look at the credit limit on my Payboo card. Darn it, I think they've got me again.
The Fujifilm X-T5 is scheduled to begin shipping on Nov. 17, 2022. You can preorder it now for $1,699.00 US.
OM Digital Solutions is removing the Olympus name from its entire product portfolio
You can read the entire article on DPReview.com.
Last year, OM Digital Solutions (OMDS) announced it would gradually transition from using the name the Olympus branding it acquired to its own OM System brand it developed. Now, that transition is getting fast tracked, just a week after OMDS announced the first interchangeable lens camera bearing its new OM System name, the OM-5.
In a press release posted to its Japanese website, OMDS announced will be replacing the 'Olympus' name on all of its current product lineup with 'OM System.' According to the announcement, the change will impact all products in OMDS' lineup, including cameras, lenses, binoculars and accessories. Aside from swapping 'Olympus' with 'OM System,' the affected products will otherwise remain unchanged, with the original specifications and build quality.
This change comes nearly two years after Japan Industrial Partners (JIP) completed its acquisition of Olympus' camera and imaging portfolio under its then-new OM Digital Solutions subsidiary. Ten months after the acquisition, OMDS announced its new OM System brand, which it implied would serve as the successor to the historic brand formerly known as Olympus.
The Olympus name has been on various cameras, lenses and accessories in some form since the 1930s. While the brand and the products bearing its name has seen various owners over the years under the greater Olympus umbrella, this transition to OM System appears to mark the end of a name that's been stamped on cameras of all shapes and sizes for almost a century, including the game-changing OM-1 and its popular Olympus Pen lineup.
The New Nimble Photographer Weekly Newsletter
The Nimble Photographer Newsletter is now publishing every Thursday. Readers will enjoy a variety of content spanning from short photo essays, to commentary on weekly events, to reviews of the latest and coolest photo gear.
Because of this rotating content, you won't see the same layout each time. There will be a certain freshness about The Nimble Photographer Newsletter that you typically don't see with other publications.
The Nimble Photographer Newsletter is a valuable addition to our existing community benefits that include TheDigitalStory Podcast, The Nimble Photographer website, TheFilmCameraShop, and Derrick Story on Medium.com.
How to Sign Up
You can Sign Up for Free to the Nimble Photographer Newsletter and receive each edition weekly in your inbox.
I'm looking forward to sharing lots of great content with you.
Are Modern Photos Too Perfect?
You can read the entire article on FStoppers.com.
We are at a remarkable time in photography: cameras and lenses are more capable than ever, and we can create images that photographers could only dream of a decade ago. And for the most part, that is a great thing. However, there can be a downside to that. Are images too perfect nowadays?
Coming to you from aows, this interesting video discusses the idea of reintroducing imperfection to photos. I think this is an important thing to think about. A lot of photography today places technical perfection at the top of the list of priorities. And no doubt, we should not confuse the idea of deliberate imperfection with not possessing sound technique. Rather, we should reassess if the constant pursuit of technical perfection is hindering us from improving our photos in other ways. After all, there are a lot of photos out there that are clinically sharp, with beautiful colors and crisp editing, and yet, they are often somehow lacking something -- something that makes them compelling, that makes the viewer unable to look away. When our technique is good, it is time to make room for other aspects of image-making as well. Check out the video above for the full rundown.
Virtual Camera Club News
Update on the 2023 TDS Workshop Season - We're off to a great start for the 2023 TDS Workshop Season. Workshops are filling up quickly.
Inner Circle Members: A big thanks to those who support our podcast and our efforts! We are having a blast at our new Inner Circle hangout, the private group I've set up at DerrickStoryOnline. We'd love it if you join us. You can become an Inner Circle Member by signing up at our Patreon site. You will automatically be added to the new hangout.
My Writing on Medium.com: I now have 51 published articles on Medium.com. And if you haven't visited the site, and enjoy good writing on a variety of topics, I suggest that you may want to take a look. You can just go to the home page and enter "Derrick Story" in the search field. And if you like what you read, then follow me!
The New Donation Kit for Carefree Shipping of Found Film Cameras - If you've discovered a film camera that's no longer being used, our new Donation Kit makes it easy to pack and ship. Just visit the Contact Form on thenimblephotographer.com, click the box next to Donating a Film Camera, and let me know what you have. In your note, be sure to include your shipping address.
Affiliate Links - The links to some products in this podcast contain an affiliate code that credits The Digital Story for any purchases made from B&H Photo and Amazon via that click-through. Depending on the purchase, we may receive some financial compensation.
Red River Paper - And finally, be sure to visit our friends at Red River Paper for all of your inkjet supply needs.
See you next week!
You can share your thoughts at the TDS Facebook page, where I'll post this story for discussion.