RAW files from Fujifilm's new X-Trans CMOS II sensor can be processed in Lightroom 4.4 with excellent results. Adobe and Fujifilm have been working together to enable Lightroom to get the most out of the X Series cameras.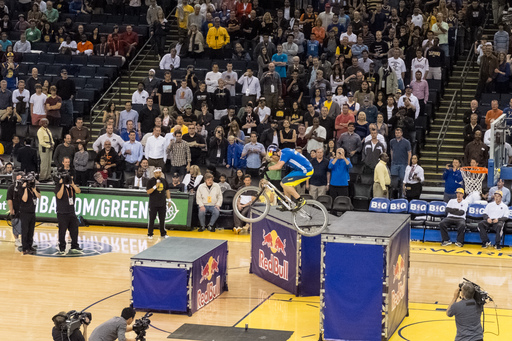 Halftime show photographed with a Fujifilm X20 and RAW file processed in Lightroom 4.4. Click on image for a closer look.
Last night, I packed a Fujifilm X20 for the Warriors game at Oracle Arena and recorded in RAW. This image was captured at ISO 800, 1/420th at f/2.8 in Aperture Priority mode.
I then processed the photo in Lightroom 4.4, adjusting both color and exposure (but not much!). The .RAF file responded well to all of the adjustment sliders in Lightroom 4.4.
If you're shooting with one of these new X-Trans CMOS sensors, Lightroom can definitely help you get the most out of these files. I did notice, however, the fans coming on for my MacBook Pro 15" Retina Display laptop while working on the X20 library. Must be some heavy lifting going on under the hood.
Want to Comment on this Post?
You can share your thoughts at the TDS Facebook page, where I'll post this story for discussion.
---
Join me on my Instagram site as I explore the world of mobile photography.