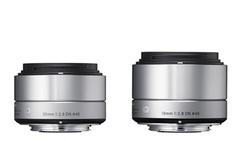 Sigma announced Art Line versions of its 19mm and 30mm prime lenses for Micro Four Thirds and Sony NEX mounts.
"All three DN lenses incorporate telecentric optical designs and a linear, auto focusing motor that ensures accurate and quiet focusing for video recording. They also boast metal exteriors and a simply shaped focus ring, with varying textures to distinguish each part of the lens. In addition, DN users can choose between a black or silver finish to match their favorite equipment. "
No word yet on price or exact release date for the new lenses. But we anticipate that it won't be long before they are available.
In the meantime, you can get a great deal on the existing versions of the 19mm and 30mm f/2.8 primes. B&H Photo is offering the pair for $199 ($99.50 per lens!). That's an affordable way to add two prime lenses to your Micro Four Thirds kit.
I have the Sigma 30mm f/2.8 prime for my Olympus camera bodies, and have enjoyed using it. It cost me $199 for just the one lens when I bought it in April 2012.
---
Take a look at the Olympus Micro Four Thirds Gear Guide for an overview of cameras, lenses, and accessories.