This is The Digital Story Podcast #752, August 18, 2020. Today's theme is "5 Ways to Spice Up Your Pix Life." I'm Derrick Story.
Opening Monologue
Much is written about the evils of gear acquisition syndrome, often referred to as GAS. And yes, it is a real thing for many photographers. But my personal view of this affliction is isolated more to spending big bucks on cameras and glass. What about those smaller purchases that bring us true joy and energize our enthusiasm for photography? I'll make my anti-GAS case on today's TDS podcast.
5 Ways to Spice Up Your Pix Life
I don't know if you've ever done this, but I'm going to admit to you that I have. Have you ever set a new camera, or an accessory for it, on the table in front of you while you worked?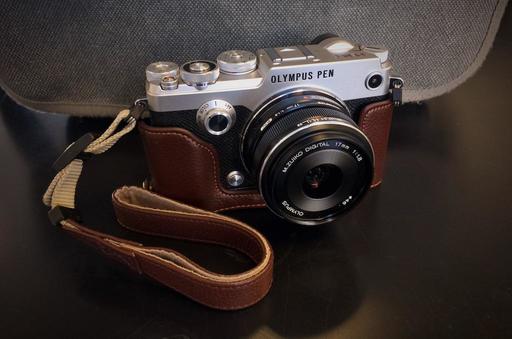 It wasn't in use. There was no particular reason to do this other than you just wanted to look at it and admire its beauty. I've done that. I did it with the Olympus PEN-F in its handsome leather half case. I also perched the Fujifilm X100V with its aluminum grip in front of me. It's such a great feeling. I can't wait to go out and take pictures with these beauties.
So when we're feeling a bit stale, how can we spark that joy without dinging our credit cards with a $1,500 charge? My trick has been through new accessories and techniques. And I have five to share with you this week.
A New Lens, but Vintage - Yes, you could spend $1,200 on a new state of the art optic. But scoring a vintage beauty for $100 can be just as satisfying and evokes far less guilt. And the images that this glass produces can be truly inspiring.

An ND Filter - Unless you're a seasoned landscape photographer, you probably haven't invested in an ND filter yet. Get one and find some water and amaze yourself with the images you can produce. I also recommend a smartphone app that will help you calculate exposure. There are many of them. This will increase your success rate as well as your enjoyment quotient. You can check a a variety of ND filters here.

A Pack of Black 5x7 Frames - There's something about a museum-styled black frame that makes your images look just a bit better. 5x7 prints are easy to make. Put the two together and you will be truly pleased with the results. Try it. I'm beggin' ya! Here's a a set of frames that I bought and have been pleased with

Half Case or Aluminum Grip, You Choose: I've gone both routes and can't decide which one I like better. On the PEN-F I went with a leather half case with matching wrist strap. For the X100V I chose the aircraft aluminum grip with Arca Swiss adapter on the bottom. I can't stop looking at either one of them. Here is a selection of half cases to browse.

Custom Lens Hood: I've gone this route three times and have not regretted my decision once. I first bought the Olympus metal hood for my 75mm f/1.8 optic. What a beautiful, artfully designed metal accessory. I did it again with the Voigtlander 40mm f/2.0 optic for my Nikons. It included a fitted lens cap that is gorgeous. And finally, my silver Olympus 17mm f/1.8 lens has a limited edition metal lens hood with custom fitted cap. Oh my. All three are so irresistible.
I realize that when it comes to photography, I am easily entertained. And these minor indulgences really keep my enthusiasm waxing. Pick one or two and try them yourself. And if you have a favorite that isn't on this list, please list it on our TDS Facebook pages so others may consider it for their kits.
Adobe opens up free registration for its all-digital Adobe MAX 2020 conference?
You can read the entire article on DP Review.
Registration for the all-digital Adobe MAX 2020 event is now open and free for all.
Back in May, Adobe announced both of its annual conferences, 99U and Adobe MAX, would be going all-digital amidst the ongoing COVID-19 pandemic. Now, Adobe has opened up registration for its Adobe MAX 2020 conference, making it free for all who want to join the virtual version of 'The Creativity Conference.'
The online event will feature more than 250 speakers and take place from October 19-21. Both the main keynote and the breakout sessions will be available for all registrants. The headlining speakers include photographer Annie Leibovitz; recording artist, producer and director Tyler, the Creator; writer, director and producer Ava DuVernay; and actor and director Keanu Reeves. Dozens of other artists across all disciplines will have keynotes and breakout sessions as well.
I'm Now Writing on Medium
I've started publishing articles on Medium.com as @derrickstory. Posts that aren't anywhere else include: "The Body Is Willing Long After the Mind is Gone," "How IBIS Saved the Day, er, The Night," "From LA to San Francisco, 61 Days in a Different World," and "My 10 Years with Olympus Cameras." If you're interested in these topics, I'm posting an article a week. You might want to stop by and follow.
After mentioning this last week, I was thrilled so see that many of you from our TDS audience were hanging out on Medium last week. Thank you so much for chiming in. I think this is going to be an excellent complement to the work we're doing on TDS.
Those Darn Meteors!
Actually, the meteors weren't the problem. But those clouds certainly were. I wandered out two nights last week with camera on tripod and ended going home with my tail between my legs. I explain what happened in this segment of the show.
The New Donation Kit for Carefree Shipping of Found Film Cameras
We have more time around the house than ever. And you finally dove into that bedroom closet that's been begging for some organization.
If you found a film camera that you're no longer using, our new Donation Kit makes it easy to pack and ship. Just visit the Contact Form on thenimblephotographer.com, click the box next to Donating a Film Camera, and let me know what you have. In your note, be sure to include your shipping address.
If it's a camera we can use for the shop, I'll send you a Donation Kit that includes a USPS Priority Mail shipping box and prepaid label. All you have to do is tape it up, insert the camera, and add the label. USPS will pick up your shipment from the front door of your house during their regular mail delivery. It's that simple!
Your donation help get analog gear in the hands of aspiring fine art photographers, and the proceeds help support this podcast.
The Essential Steps to Impressive Video Conferencing
If you want to learn more about looking and sounding great for your next online interaction, then I think you'll very much enjoy my latest online workshop, The Essential Steps to Impressive Video Conferencing.
This 1-hour deep dive focuses on the 3 major areas of successful online interaction: Audio, Video, and Environment. During the course, I walk you through a variety of techniques that range from simple using gear that you already have, to improving your chops through a few inexpensive purchases.
The course is currently available for free to our Inner Circle Members on Patreon. Members, just go to our Patreon site, and all the information will be there. If you're not already an Inner Circle Member, you can join us for $5 a month.
The course is also available on our Nimble Photographer Workshop Page for $14.95.
I have tons of great tips and techniques waiting for you there. If you want to get serious about how you come across during online meetings, classes, interviews, and family interactions, then you definitely will want to watch this course.
Digitizing Family Memories Course Now Available Online
Each of the four classes will outline a specific set of steps for you to accomplish. By the end of the course, you will have an organized digital archive of your most valuable family images.
You can sign up for the course by visiting the Workshops page on The Nimble Photographer. The course fee is a reasonable $39 (on sale right now). It includes the 4 class videos, class notes, and access to the class forums that are a part of each movie.
Updates and Such
Inner Circle Members: A big thanks to those who support our podcast and our efforts!
How to Watch Photos for macOS Catalina and iPadOS - Learn everything you need to know about Photos for the Mac and iPad by checking out my latest course on LinkedIn Learning and on lynda.com. This course is perfect for Mac and iPad based photographers who shoot with iPhone, Mirrorless, and DSLR cameras. It covers both photography and movies. And if I say so myself, it's a lot of fun.
B&H and Amazon tiles on www.thedigitalstory. If you click on them first, you're helping to support this podcast. (The Digital Story is supported by its audience. When you purchase through links on our site, we may earn an affiliate commission.) And speaking of supporting this show, and big thanks to our Patreon Inner Circle members:
Affiliate Links - The links to some products in this podcast contain an affiliate code that credits The Digital Story for any purchases made from B&H Photo and Amazon via that click-through. Depending on the purchase, we may receive some financial compensation.
And finally, be sure to visit our friends at Red River Paper for all of your inkjet supply needs.
See you next week!
Product Links and Comments
There are product links in this article that contain affiliate tags. In some cases, depending on the product, The Digital Story may receive compensation if you purchase a product via one of those links. There is no additional cost to you.
You can share your thoughts at the TDS Facebook page, where I'll post this story for discussion.