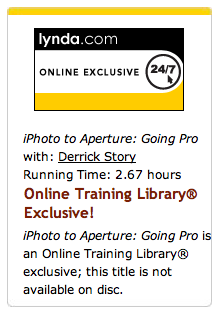 Moving from iPhoto to Aperture can be a smooth transition. That is, if you make the right choices during the upgrade. In my Lynda.com training, iPhoto to Aperture: Going Pro, I show you in detail how to customize your Aperture environment for a successful "reloaction."
Think of this transition as you would moving into a new house. It's an opportunity to clear out junk, reorganize, and start fresh. Use these tips to get a clean start on your photography life.
Don't move everything from iPhoto to Aperture -- only your best stuff. Remember, you don't have to get rid of iPhoto. It can serve as your archive that is there whenever you need to look back into the past.

First, take some time to organize the images you want to move in iPhoto. Since Aperture can "see" iPhoto albums and import them intact, find your best work and put them in iPhoto albums.

Don't move your entire iPhoto library using the "Import > iPhoto Library" command. Aperture brings everything in, and you're just moving the mess from one application to another. Instead, click on the "Import" icon (down arrow), navigate to your iPhoto Library in your Pictures folder, then choose the iPhoto album you want to bring in. Aperture sees iPhoto albums and lets you import them.

Spend some time thinking about how you want to organize your new Aperture library. Learn about folders, projects, and albums.

Be patient. You can bring in a few iPhoto albums, play around with organizing them in Aperture, learn what works best for you, then bring in a few more albums.
As I mentioned at the top of this post, you can get more detail about all of these tips, and more, in iPhoto to Aperture: Going Pro. And if you're curious as to why you would want to consider the move in the first place, take a look at the free movie on the catalog page titled, "Ten Reasons to Move to Aperture."
---
-
---
Technorati Tags: Aperture, digital photography, iPhoto '09, Lynda.com