I don't always have my best cameras with me when the great moments in life happen. And for those instances, thank goodness for plug-ins. More on that in a moment. First, a word about noise reduction.
In my mind, Apple has never been very good at taming noise. Even in their pro app, Aperture, that adjustment brick was ineffectual at best. And things haven't improved in Photos for macOS. Fortunately, we have third-party relief though editing extensions. And my current favorite is the noise reduction tool in Macphun's Luminar, that will offer its toolset to Lightroom and Aperture as plug-ins, and to Photos as an editing extension.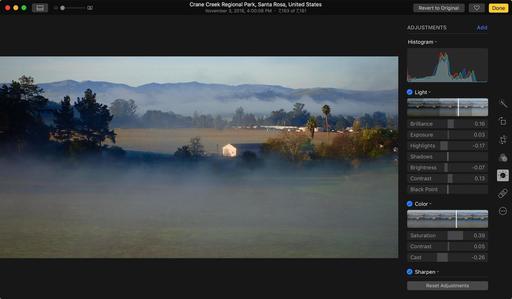 Editing this image in Photos is fun, but noise is rearing its ugly head.
The process I use now, is that I edit my image natively in my photo management app, in this case Photos, knowing that I can apply noise reduction once I'm finished with it.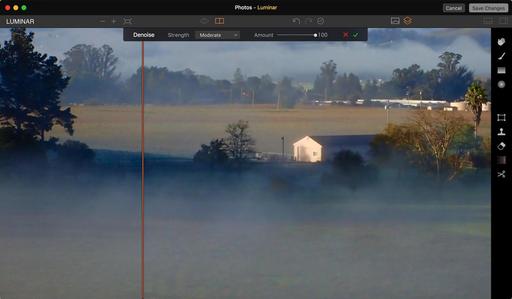 I then open the image in Luminar and apply my noise reduction. Reviewing the results with the before/after curtain.
The fine-tuned picture then comes back to Photos, looking much cleaner.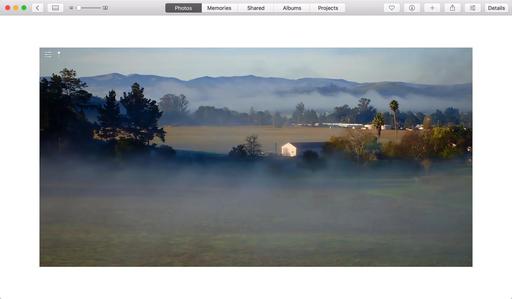 Finished image with noise reduction applied.
You may be thinking that you rarely have to deal with noise using your Nikon D800. Yes, that's true. But many of life's moments happen when the D800 is back on the shelf at home. The image I'm using here was captured as a Jpeg with a compact camera that was in my pocket while I was driving on an errand. I had never expected to engage in serious landscape photography.
Yet, there was the shot, and I was going to use what I had to capture it. I knew that in post I could probably clean it up. Between you and me, I like the picture. I decided to go for a painterly look, adding to the effect of the fog. But tomorrow I may feel differently, and possibly go back and do something else. The joy of non-destructive editing.
I'm using Luminar for this type of work now because it can handle everything I need with just one editing extension or Lightroom plug-in. And I've tested it with Capture One Pro too, seeing great results.
I have a beta copy, but you can pre-order your copy now for a discounted price plus bonus items. It's a great help for all types of images, especially those you did not plan to take.
Master Photos for macOS
(It's More Powerful than You Think)
For hands-on tutorials, be sure to take a look at Photos for OS X Essential Training on lynda.com. I cover everything you need to know to get the most from this surprisingly powerful image management application.
Want to Comment on this Post?
You can share your thoughts at the TDS Facebook page, where I'll post this story for discussion.