I like to leave the laptop at home for vacation. And with the power and connectivity of the iPad, traveling light is better than ever.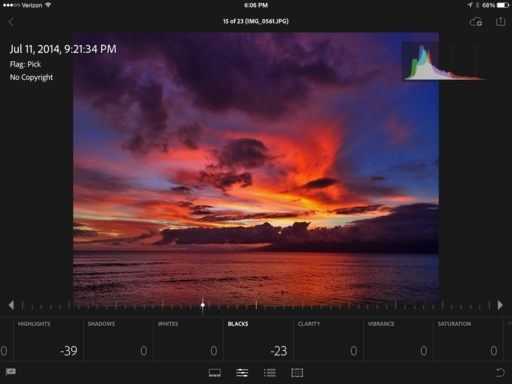 Editing in Lightroom Mobile on the iPad mini is a joy.
When Adobe introduced Lightroom Mobile, I saw my iPad-only scenario improving. Imagine being able to sync Collections with your master Lightroom library at home and bring them with you on your mobile device? Plus, even better, upload those vacation shots in the field, then use LR's amazing editing tools to fine tune them, and publish online from your remote destination.
In my latest post for lynda.com Article Center, Field Test: Lightroom Mobile in Maui, I go into detail about how LRM performed in the field. The bottom line is this: Bringing content with you from your master library works great. You can view, share, and even star-rate the pictures.
But going the other direction is frustrating. If you're thinking that you can use this software and your iPad to replace a laptop in the field, my guess is that you'll be disappointed.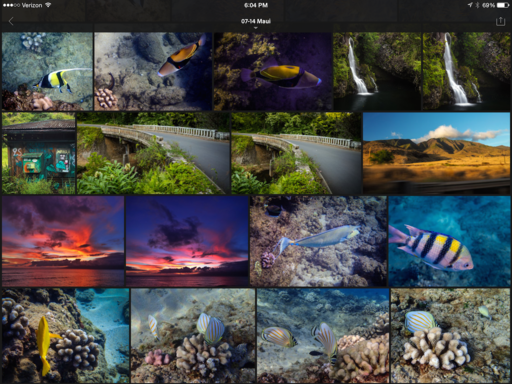 Browsing new images in Lightroom Mobile on an iPad mini.
Yes, you can browse new Jpegs and adjust them with Lightroom's tools. But you can't add any IPTC metadata, including captions, keywords and copyright. And I had issues with the star ratings that I explained in the lynda article.
So for now, Lightroom Mobile is more about bringing pictures from home than it is working with new ones in the field. Maybe over time this will change...
---
More Help on Managing Your Mobile Photos
In my lynda.com title, Managing Your Mobile Photos, I cover a variety of backup solutions for both iOS and Android users. These tutorials will help you build the perfect backup solution for you, so that you never lose a single image.
Want to Comment on this Post?
You can share your thoughts at the TDS Facebook page, where I'll post this story for discussion.