This is The Digital Story Podcast #825, Jan. 11, 2022. Today's theme is "The Joy of Everyday HDR." I'm Derrick Story.
Opening Monologue
Thanks to the ease of HDR merging in both Lightroom, and now in Capture One Pro 22, leveraging the advantages of high dynamic range photography doesn't have to be a special occasion activity. You can use it whenever you want a little more tonal range. How to easily do that is the first topic of today's TDS Photography Podcast. I hope you enjoy the show.
Digital Photography Podcast 825
Tune-In Via Your Favorite Podcast App!

---

Apple Podcasts -- Spotify Podcasts -- Stitcher

Podbean Podcasts -- Podbay FM -- Tune In
The Joy of Everyday HDR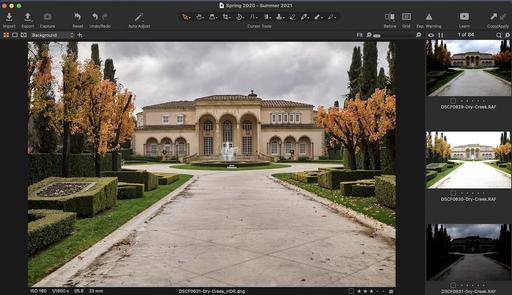 Here, for example, is how I've been using it with my Fujifilm X100V and Capture One Pro 22.
Start by capturing three Raw files at -2.0/0/+2.0 exposure bracket. On my X100V, I press the Drive button, scroll down to BKT, choose AE BKT, then press the OK button. I don't have to worry about the bracket range because I've already set that by going to Menu > Shooting Setting (camera icon) > AE BKT SETTING > FRAMES/STEP SETTING. I choose +_ 3 Frames and 2 Step.
Since the camera will remember the Frame/Step Setting, I only have to go to Drive to slip into HDR mode, then Drive again to return to regular shooting.
The last thing to keep in mind is that you want to work in Aperture Priority mode. You want to frames bracketed by shutter speed, not aperture. By going to Aperture Priority mode, you set the f/stop and it remains constant forcing the camera to adjust shutter speed for the bracket. This will help keep your images sharper.
Import the images into Capture One Pro. Select all three images in the bracket, then right-click on one of them and choose "Merge to HDR" from the popup menu. A second popup menu will appear allowing you to auto align and auto adjust. I typically select both. The auto adjust presents you with a very nice merged DNG file right out of the gate.
The workflow is so easy, and I find myself merging to HDR more often now. I set my X100V to auto bracket at the -2/0/+2 range, and fire off a sequence whenever I feel a scene could use a little bit more dynamic range.
Make sure you record your files in Raw. C1P won't merge Jpegs.
Because this workflow is so easy with both Lightroom and C1P, you can capture an HDR sequence whenever you have a scene that you want to play with in post. No big deal. Just everyday shooting!
Remove Power Lines with Ease, Thanks to Luminar Neo
You can read the entire article on PhotoFocus.
In the new Luminar Neo, Skylum has added some great new tools to help save you time. One of these is the ability to remove power lines from images.
You can find this tool in the Erase tab, located under the Essentials tools. Then, you can click Remove Powerlines under the Objects Removal section.
To test out the tool, I found an old photo of a NASA rocket. I wanted to see if the AI would remove the cables holding the rocket. I simply clicked the Remove Powerlines button.
After about 5-10 seconds of the AI working, the cables were successfully removed. This is certainly an efficient feature! The clouds, blue patches, overexposed areas and painted lines on the rocket did not confuse the software.
You can buy a preliminary release of Luminar now for $79, and the final version will be made available to you in February. I'll be testing it soon and will share my initial impressions. Stay tuned.
The 2022 TDS Workshop Season
We have great events lined up for this year, and there are a few more coming. Here's a recap of what we have so far:
March 2022 - Writing for Online Publishing (online)
April 2022 - Humboldt Redwoods Workshop (physical)
May 2022 - Infrared Photography Workshop (online event)
August 2022 - Ultimate B&W Photography Workshop (online)
Sept. 2022 - Eastern Sierra Photo Workshop (physical)
Nov. 2022 - Oregon Coast Photography Workshop (physical)
You can learn more about all of these events and register by visiting TheNimblePhotographer.com.
Nikon, Panasonic Absent from Japan's Best Selling Cameras of 2021
You can read the entire article on PetaPixel.
BCN+R, a large retailer and holder of one of the largest databases of electronic sales in Japan, has published the top ten cameras sold in 2021. Notably absent from the list are Nikon and Panasonic.
BCN+R regularly publishes trend and sales reports across multiple electronics markets, including cameras. While it shouldn't be taken as the end-all of Japanese sales reports, the company does command about 40% of the Japanese sales market which does make it a very solid indication of what products are popular. For what it's worth, no such ranking like this exists in the United States as no retailer or dealer is willing or able to share its sales data publicly. So while it's not the best data, it is some of the only data that those interested in industry trends tend to get.
And as noted by Imaging Resource, it's important to keep a couple of things in mind before taking a look at the results. First, the camera market in Japan is extremely different from that of North America or Europe. Japanese sales regularly show smaller compact cameras tend to be extremely popular, while the larger and more "professional" bodies that sell well in the United States are not nearly as sought after. Also of note is that BCN+R's list includes multiple variations of the same product through kits, standalone cameras, or even color options. As a result, these numbers might be skewed a bit.
Below are BCN+R's top-selling cameras of 2021:
Sony A6400 Double Zoom Lens Kit (Black)
Canon EOS Kiss M2 Double Zoom Kit (White)
Canon EOS Kiss M Double Zoom Kit (White)
Sony A6400 Double Zoom Lens Kit (Silver)
Sony ZV-E10 Power Zoom Lens Kit (Black)
Canon EOS Kiss M2 Double Zoom Kit (Black)
Canon EOS Kiss M Double Zoom Kit (Black)
Fujifilm X-A5 Lens Kit (Silver)
Olympus PEN E-PL10 EZ Double Zoom Kit (White)
Fujifilm X-A5 Lens Kit (Brown)
Obviously, the aforementioned repetition of products is obvious here. Sony and Canon both have products that show up twice, which potentially squeezes out the potential for the two camera companies that are notably absent here: Nikon and Panasonic. Both companies released cameras that would have theoretically been popular in Japan last year: Nikon released the Zfc while Panasonic launched the GH5 II. Both companies could be absent from this list for a few reasons.
One other thing to note is that not a single full-frame camera made it to the top-selling cameras in Japan list, which further highlights the difference in the eastern and western camera markets. That said, Imaging Resource reports that the Sony A7 IV, Sony A7 III, and Canon EOS RP have all made the top-selling list of cameras from BCN+R last month, so it's possible that the transition to full-frame is coming along in Japan, albeit slowly.
Photos for macOS Monterey and iPhone Essential Training
You can view the course here on LinkedIn Learning.
With the free Photos for macOS software from Apple, you can manage, enhance, and share photos in a variety of ways. In this course, photographer, author, and educator Derrick Story takes you on a detailed exploration of Photos for macOS.
Derrick gives you a tour of the interface and the headline new features, then goes into detail on the ways you can use Live Text to transform your camera into your personal assistant. He shows you how to search for pictures by object type, copy images from messages to Photos, use Quick Notes with Photos, and automate common tasks with shortcuts.
Derrick walks you through the improved importing process and gives you some useful tips on organizing and editing your pictures directly in Photos. Plus, he shows you where to find more tips and techniques for working with Photos for macOS.
Virtual Camera Club News
Inner Circle Members: A big thanks to those who support our podcast and our efforts!
My Writing on Medium.com: I now have 51 published articles on Medium.com. And if you haven't visited the site, and enjoy good writing on a variety of topics, I suggest that you may want to take a look. You can just go to the home page and enter "Derrick Story" in the search field. And if you like what you read, then follow me!
The New Donation Kit for Carefree Shipping of Found Film Cameras - If you've discovered a film camera that's no longer being used, our new Donation Kit makes it easy to pack and ship. Just visit the Contact Form on thenimblephotographer.com, click the box next to Donating a Film Camera, and let me know what you have. In your note, be sure to include your shipping address.
Affiliate Links - The links to some products in this podcast contain an affiliate code that credits The Digital Story for any purchases made from B&H Photo and Amazon via that click-through. Depending on the purchase, we may receive some financial compensation.
Red River Paper - And finally, be sure to visit our friends at Red River Paper for all of your inkjet supply needs.
See you next week!
You can share your thoughts at the TDS Facebook page, where I'll post this story for discussion.