This week on The Digital Story Photography Podcast: New Camera in iPhone 6, Apple Watch Blockbuster, Free U2 Album - All of this and more on today's show with Derrick Story.
Story #1 - Western Digital launches My Passport Wireless hard drive ($179) with built-in SD card reader. When a memory card is inserted into the drive it can be set back up your photos or automatically ingest all images, then wipe the card clean afterwards. To view your images you can either connect the drive to a computer using USB3, or you can connect to it wirelessly using the free WD My Cloud mobile app. (Source: DP Review).
In other news, Sony QX1, QX30 debut: Transform your smartphone into an APS-C ILC or 30x superzoom - The Sony QX1 sports a large 20.1-megapixel Exmor APS-C CMOS sensor a la the Sony A5000, and a fully functional E-mount lens flange. The QX30, has a resolution of 20.4 megapixels, and it's paired to a 24-720mm-equivalent, f/3.5-6.3, 30x optical zoom lens. (Source: PhotographyBlog.com).
And finally, Lomography Unveils the LC-A 120: 'The World's Most Compact Fully-Automatic 120 Camera' ($430). Features include multiple-exposure mode, rear curtain flash sync and a four-step zone focusing system with the closest focusing distance being roughly two feet. (Source: PetaPixel).
Story #2 - iPhone 6 with New Camera is Announced by Apple. As reported by The Verge: "It has a 8-megapixel camera with a f/2.2 aperture and 1.5µ pixels, just like the last model. But the sensor has been upgraded. The "next generation iSight sensor" has what Apple's calling "focus pixels." Those pixels offer DSLR-like phase detection autofocus, which is supposed to be twice as fast as the 5S. And now it's easier to take high-dynamic range (HDR) photos. Both iPhones can take HDR shots with a single click of the shutter, rather than a series of shots as before."
Also, a difference in image stabilization. The iPhone 6 Plus employes an optical stabilizer. And finally, "Video has also been improved across both phones. The smartphones can shoot 1080p video in 30 or 60 frames per second, and there's a fairly stunning 240fps slow-mo video mode, too. If you like taking pictures of yourself, you'll be glad to hear that the front-facing iSight camera has improved face detection and a new "burst" selfie mode to help you get the best shot."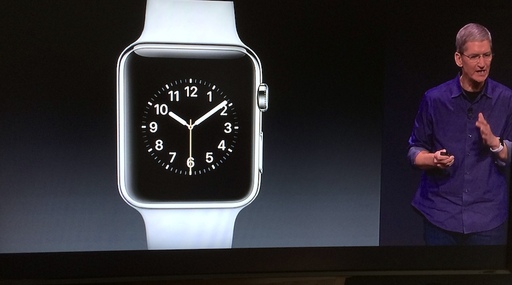 Story #3 - The Impressive Apple Watch and a Free U2 Album, "Songs of Innocence." Will report on all of these in segment 3 of today's show.
Story #4 - From the Screening Room - Photographing and Assembling a Lunar Eclipse Composite with Seán Duggan. Ever wonder how photographers create those cool lunar composites? Now you can get the inside scoop. Sean shows you how to capture, organize, and assemble the elements for a lunar composite.
You can watch Sean in action by visiting the TDS Screening Room at lynda.com/thedigitalstory. While you're there, you can start your 7 day free trial to watch other design, photography, and computing titles, plus every other topic in the library.
Story #5 - Telezoom Test. Slide Scanners Tested, Wildlife Photo Tips, Mobile Raw Processing Apps, How the Fine Art Market Works, and more - A preview of the Fall Issue of c't Digital Photography Magazine. If you're not a subscriber yet, here's a 20 percent discount.
Virtual Camera Club News
The SizzlPix September Discount Order early, starting today, and for every day between now and the end of September, SizzlPix will subtract 1% (one-percent) from the cost of your order. Remember the rhyme, "30 days hath September ..." You can see how much you'll save! Remember to put TDS September Discount in the comments field.
Visit the Red River Paper Card Shop. You can peruse top selling cards, order the card sample kit, and read tutorials on card printing. Save on Ground Shipping for Red River Paper. Use coupon code ground50c to receive a 50 percent discount on UPS ground shipping for Red River Paper. No minimum purchase required.
Photo Assignment for September 2014 is "Shot from Behind".
If you haven't done so already, please post a review for The Digital Story Podcast in iTunes.
BTW: If you're ordering through B&H or Amazon, please click on the respective ad tile under the Products header in the box half way down the 2nd column on thedigitalstory.com. That helps support the site.
Download the Show
In addition to subscribing in iTunes, you can also download the podcast file here (39 minutes). You can support this podcast by purchasing the TDS iPhone App for only $2.99 from the Apple App Store.
More Ways to Participate
Want to share photos and talk with other members in our virtual camera club? Check out our Flickr Public Group. And from those images, I choose the TDS Member Photo of the Day.
Podcast Sponsors
lynda.com - Learn lighting, portraiture, Photoshop skills, and more from expert-taught videos at lynda.com/thedigitalstory.
Red River Paper -- Keep up with the world of inkjet printing, and win free paper, by liking Red River Paper on Facebook.
SizzlPix! - High resolution output for your photography. You've never seen your imagery look so good. SizzlPix.com. SizzlPix! now is qualified for PayPal "Bill Me Later," No payments, No interest for up to 6 months, which means, have your SizzlPix! now, and pay nothing until January!
Want to Comment on this Post?
You can share your thoughts at the TDS Facebook page, where I'll post this story for discussion.