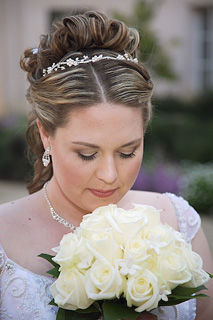 I just posted the first wedding gallery of the season. I used Apple's Aperture to manage the RAW files that I shot with my Canon 5D. For most of the wedding, I used the Canon EF 24-105mm f-4 IS lens, with and without flash. My assistant, Paige Green used a Canon 20 D with 85mm f-1.8 or 28-70mm f-2.8 L lens. She shot mostly existing light.
The online gallery was generated right out of Aperture using its Web Gallery tool, then uploaded to a .Mac server from Aperture. Only minor photo edits, mostly cropping, were applied to the images.
I talk about wedding photography in this week's podcast if you'd like to learn more about the process.
Technorati Tags: digital photography, technique