This is The Digital Story Podcast #783, March 23, 2021. Today's theme is "Hands On Review of the Fujifilm X-E4 Mirrorless Camera" I'm Derrick Story.
Opening Monologue
The FUJIFILM X-E4 is a camera that I've fallen in and out of love a dozen times since I've had it. On one hand it's compact, handsome, and powerful. On the other it lacks image stabilization and the desired number of customizable buttons. So where do I land with the X-E4? I'll reveal my verdict and more on today's TDS Photography Podcast. I hope you enjoy the show.
Tune-In Via Your Favorite Podcast App!

---

Apple Podcasts -- Spotify Podcasts -- Stitcher

Podbean Podcasts -- Podbay FM -- Tune In
Hands On Review of the Fujifilm X-E4 Mirrorless Camera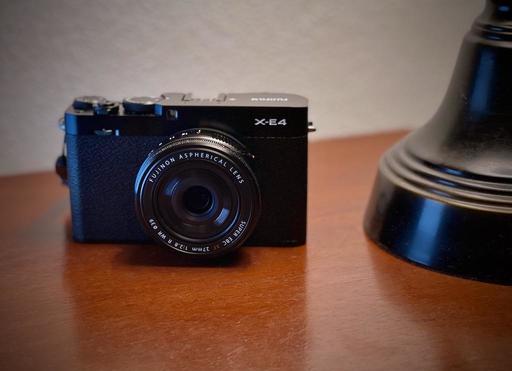 When Fujifilm announced the X-E4, I thought for sure that I was going to buy it after my review period expired. It's so compact, its controls are familiar, and the image quality could for sure be counted on. Plus, I really like the 27mm f/2.8 lens that's bundled with it.
But it isn't perfect. So before I get into my personal pros and cons, let's review its basic specs and features.
Basic Specs and Features
26.1MP APS-C X-Trans BSI CMOS 4 Sensor (6240 x 4160)
X-Processor 4 Image Processor
DCI/UHD 4K at 30 fps, Full HD at 240 fps
2.36m-Dot 0.62x OLED EVF
3.0" 1.62m-Dot 180 Degree Tilting Touchscreen
425-Point Hybrid AF System
ISO 160-12800, up to 30-fps Shooting
Bluetooth and Wi-Fi Connectivity
Film Simulation Modes
XF 27mm f/2.8 R WR Lens
Same battery as the X100V
The Things that I Like
Handsome, compact body
Excellent resolution from the APS-C sensor
Cool 27mm lens bundled, good sharpness and color
Tilting LCD is very nice
Lots of creative controls such as film simulations, manual focusing aids, vintage lens profile ability, and more
On the fly geotagging works great with my iPhone
Love having the same battery as my X100V
Headphone adapter included in the box.
USB-C port and charging is nice.
Things I Don't Like as Much
No in-body image stabilization, and OIS lenses hard to come by
No grips on the camera, and grip accessories add to overall cost
Jpegs feel over processed with mushy bokeh
RAWs are noticeably darker than image on LCD and Jpegs
Would much prefer an f/2.0 prime
UHS-1 card slot seems like a miss
Lack of programmable buttons is disappointing
Why a weather-proofed lens on a non weather-proofed body?
No battery charger in the box
No built-in flash nor accessory flash included
No M-C-S switch
Play button moved to an awkward location
I've really enjoyed shooting with the camera and the 27mm lens. And I've adapted my favorite compact Pentax HD optics as well, and the images look fantastic.
I was hoping for an interchangeable lens version of the X100V. But the X-E4 falls short of those expectations. The X100V is weatherproof, has a faster lens, more physical controls, built-in flash, hybrid viewfinder, and more rugged build. The lack of IS in the X100V isn't as big an issue because it only has the 35mm equivalent lens. And I think that the Jpegs and RAWs look better from the X100V as well.
So here's what I've decided to do. I have a review model of the Fujifilm X-S10 coming that includes 5-axis IS and a built-in flash, but for only $100 more. I'm going to test it against my X-E4 experience. But for now, I'm holding off on purchasing the X-E4. It's fun, but I think I need more for a $1,000.
If you're interested in the camera, The FUJIFILM X-E4 with 27mm lens is available now for $1,049.
How I Adapted My Pentax HD Lenses to a Fujifilm Camera
Two of my prized compact primes include the Pentax HD Pentax DA 21mm f/3.2 AL Limited and the Pentax HD Pentax DA 70mm f/2.4 Limited. Both are magnificent, and each costs about $450.
The trick was finding the right adapter. The Pentax lenses don't have an aperture ring, and their default state is stopped down. A standard Pentax-K adapter wouldn't work. I needed something specifically for DA lenses.
Fortunately, I found the wonderful Gobe Lens Adapter that not only allows me to adapt the Pentax optics to the Fujifilm camera, but it provides aperture control as well. And it's a beauty, both in design and function.
After testing the adapter, I broadened my lens kit to include the Pentax HD Pentax DA 40mm f/2.8 Limited as well. I have now quadrupled my optics kit for the X-E4 for only the price of the Gobe adapter ($26.50). And the resulting images are wonderful.
1.6 million ISO! Here's a guided tour of the upcoming Pentax K-3 Mark III
You can read the entire article on Digital Camera World.
UPDATE: Ricoh Imaging has given users a guided tour of the Pentax K-3 Mark III, its long-gestating APS-C flagship camera.
Despite confirming in February that the body has been delayed, Ricoh is keeping the Pentax K-3 Mark III flame alive with this 20-minute deep dive into the new camera's capabilities - including its top sensitivity of 1.6 million ISO.
Ricoh product planner Shigeru Wakashiro gives a top-to-bottom overview of the Mark III, taking in everything from the new image sensor to the improved optical viewfinder. If you ever wanted reassurance that the DSLR isn't dead despite the mirrorless revolution, Wakashiro might make a believer out of you.
Check out the full video below - and don't forget to hit the subtitles / closed caption (unless you understand Japanese!).
The New Donation Kit for Carefree Shipping of Found Film Cameras
We have more time around the house than ever. And you finally dove into that bedroom closet that's been begging for some organization.
If you found a film camera that you're no longer using, our new Donation Kit makes it easy to pack and ship. Just visit the Contact Form on thenimblephotographer.com, click the box next to Donating a Film Camera, and let me know what you have. In your note, be sure to include your shipping address.
If it's a camera we can use for the shop, I'll send you a Donation Kit that includes a USPS Priority Mail shipping box and prepaid label. All you have to do is tape it up, insert the camera, and add the label. USPS will pick up your shipment from the front door of your house during their regular mail delivery. It's that simple!
Your donation help get analog gear in the hands of aspiring fine art photographers, and the proceeds help support this podcast.
Virtual Camera Club News
Inner Circle Members: A big thanks to those who support our podcast and our efforts!
Second Session of Integrating iPhone into a Pro Photography Workflow Online Workshop - April 21 to May 15, 2021: The first session of "Integrating iPhone into a Pro Photography Workflow" Online Workshop has sold out. But now I've posted a second session that begins April 21, 2021. If you're interested in attending, just go to catalog page.
PS: Looks like a second session of the Infrared Photography Workshop is coming as well. Tune in next week for more details.
My Writing on Medium.com: I now have more than 25 published articles on Medium.com. And if you haven't visited the site, and enjoy good writing on a variety of topics, I suggest that you may want to take a look. You can just go to the home page and enter "Derrick Story" in the search field. And if you like what you read, then follow me!
EV Explorers for Those Who Are Interested in Electric Cars: I've created a new group on DerrickStoryOnline titled EV Explorers. The tagline for this group is: "Bringing Curiosity and Nimbleosity to the World of Electric Vehicle Transportation." Here we can share information, tips, discoveries and more about using electric vehicles for our photography adventures. If you want to join this group, click on this link for an invite. We're going to keep this as a private group for now, but you are invited to join us.
Affiliate Links - The links to some products in this podcast contain an affiliate code that credits The Digital Story for any purchases made from B&H Photo and Amazon via that click-through. Depending on the purchase, we may receive some financial compensation.
And finally, be sure to visit our friends at Red River Paper for all of your inkjet supply needs.
See you next week!
Product Links and Comments
There are product links in this article that contain affiliate tags. In some cases, depending on the product, The Digital Story may receive compensation if you purchase a product via one of those links. There is no additional cost to you.
You can share your thoughts at the TDS Facebook page, where I'll post this story for discussion.