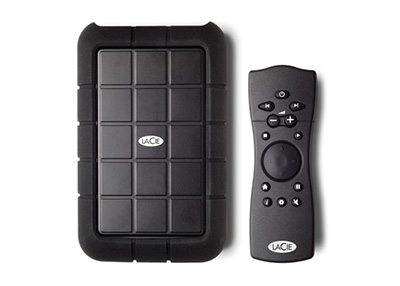 How many bus-powered portable hard drives have you seen that come with HDMI ports that plug directly into your HDTV, enabling you to view photos, movies, and even listen to music without a computer? And how many of those come with a remote control?
The new LaCie LaCinema Rugged looks similar to the other drives in their Rugged product line, but boy is it different. It comes in two capacities (250 and 320 GBs), connects to your computer via USB 2.0, and has a variety of output options: video (composite video + stereo audio), HDMI, optical video, analog stereo (via A/V cable included), and optical audio.
It can play a variety of formats including: MPEG-1, MPEG-2 (AVI, VOB, IFO, ISO), MPEG-4 (AVI, XviD), plus audio and Jpegs. And if you want, you can even use it as a regular backup hard drive via the USB 2.0.
The pricing is a reasonable $219 for the 250GB model, and $249 for the 320GB drive. I couldn't find anywhere they were available yet, but they should be in stock at the usual places soon.
---
-
---
Technorati Tags: Derrick Story, digital photography, Technology, The Digital Story