During our recent TDS Photography Workshop based at Lake Almanor, CA, I was reminded again of how helpful a Solar/Lunar app can be for sunrise, sunset, and phases of the moon. What would be even better, however, was to have it on my wrist. That's when I found the free app, Sundial - Solar & Lunar Times.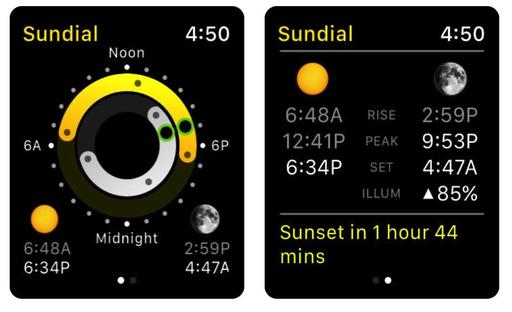 With a quick glance, I can see all of the vitals that I need for outdoor photography, including times for sunrise, sunset, moonrise, moonset, and more. Plus I can enable timers to notify me 1 hour before sunset everyday. I know this sounds a bit frivolous, but I really like it. Who knows, I might have time to go get that shot. I can set as many different types of alerts as I want, and they are fully customizable.
I made Sundial the first item on my watch's dock, so all I have to do is press the side button to display it. The app looks great on iPhones and iPads as well, but I really wanted it on my wrist
And finally, if you like astrophotography, you definitely want to know when the moon rises and sets, not to mention what phase it's in. Again, displayed on the same screen as the solar information, you can determine the best time to go out and capture the stars.
Sundial is easy to use and very helpful. These are the kind of apps that make me love my Apple Watch.
You can share your thoughts at the TDS Facebook page, where I'll post this story for discussion.