I'm doing some preliminary testing with the Sigma DP2 Merrill Compact Digital Camera. Sigma claims "the DP2 can more accurately reproduce colors, and capture sharper resolution images, than any camera the same size." I wanted to put this claim to test.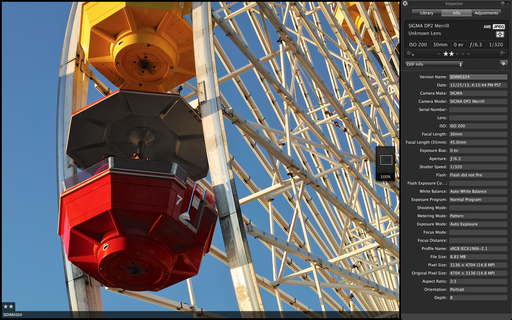 Jpeg from DP2 magnified to 100 percent on a Retina display MacBook Pro.
After just one afternoon of shooting, I can tell you that this compact camera with an APS-C, 46 MP Foveon X3 Direct Image sensor and Sigma fixed focal length 30mm f/2.8 lens, can capture outstanding images. The color is vibrant and accurate, sharpness is excellent, and shadow/highlight detail quite pleasing.
Examining this Jpeg from the Santa Monica pier at 100 percent on my MacBook Pro 15" with Retina display was a delight for my eyes. And I haven't even dug in to the Raw files yet. (You can download the Jpeg here.)
More to come from this intriguing compact camera. But we're off to an impressive start.
Want to Comment on this Post?
You can share your thoughts at the TDS Facebook page, where I'll post this story for discussion.
---