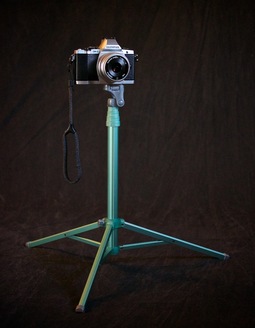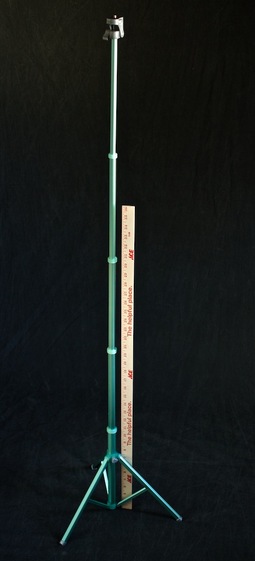 When I saw the specs for the Lollipod portable stand -- 320 grams total weight and 320 mm folded (12.5"), I wondered if this 3-legged support would be useful in my everyday camera kit. So I ponied up the $56 to have one sent from the UK.
The big question with this nimble wonder hovers around its maximum load capacity: 420 grams, and its stability. Can it reasonably stabilize a camera, or is it just an accessory stand? After some testing, I have answers to that question.
Because of how the legs fold out, the Lollipod looks like a traditional light stand -- except lighter and far more colorful. Once you spread the legs, you can extend the device to its maximum height of 1130 mm (44") by pulling out its four telescoping sections. There are no locking levers. Everything stays in place using friction. It works very well, and the only question for me is how will the Lollipod fare after extended use.
These sections allow you to set the Lollipod in five measurable height positions. And I think understanding the five positions is the key to determining if this accessory is right for you.
Fully extended, in the 5th position, the Lollipod can be used as a light stand with a strobe or some other lighting accessory. I don't feel that its sturdy enough for photography, even with cameras weighing less than the recommended 420 grams. It's just not steady enough.
However, when moving the Lollipod down to the 4th position, the sway is reduced and it's stable enough for an iPhone (you'll need your own accessory iPhone mount). In the 3rd position, I felt comfortable using the Fujifilm X20 compact camera on the Lollipod. In the 2nd position (about 23" high), the OM-D E-M5 with a prime lens could be used. And in the 1st position, the lowest height (about 13.5" tall), I could stabilize the OM-D E-M1 with a small zoom lens.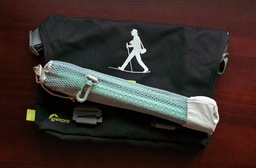 The head rotates on one axis approximately 100 degrees. It's the flip design that we've seen on other portable tripods. If you want to switch from landscape to portrait position, you attach the camera facing one way. And if you want to angle up and down, mount the camera accordingly. It's quite simple, but it works. And I like it because it's light.
So Is the Lollipod Useful?
In the 1st position with a working height of 13.5", you can mount most mirrorless cameras, compact cameras, and smart phones. The Lollipod is very stable in the 1st position, and it's far lighter than my Joby Gorillapod Focus.
As you extend the sections, the Lollipod becomes more of an accessory stand for portable strobes, LED lights, microphones, and other ancillary devices. Personally, I wouldn't use a camera on the stand beyond the 3rd position, about 31" tall.
Since I haven't found a versatile stand for my everyday camera kit that includes the OM-D E-M5, Fujifilm X20, off-camera flash, and microphone, I'm adopting my mint green Lollipod. It's super light (seriously), quite versatile, has an attractive design, and is reasonably priced.
As long as you don't push it beyond its design limits, I think most light-footed shooters will like the Lollipod and use it often. Recommended for nimble photographers.
---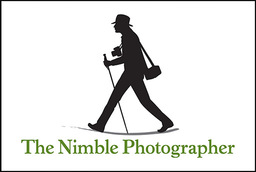 This product has a high Nimbleosity Rating. What does that mean? You can learn about Nimbleosity and more by visiting TheNimblePhotographer.com.
Want to Comment on this Post?
You can share your thoughts at the TDS Facebook page, where I'll post this story for discussion.