The Olympus M.Zuiko 17mm f1.8 lens ($499 available in silver or black) is one of the most intriguing Micro Four Thirds lenses I've ever shot with.
I purchased it as part of the Olympus Limited Edition OM-D E-M5 Kit with 17mm f1.8 lens, metal lens hood, and metal lens cap ($1,399 in silver). I wanted the metal lens hood, and the engraved metal lens cap is very stylish. Plus it's a great price for items that would sell for $1,599 if purchased separately.
Online reviews on the 17mm lens ranged from good to great. Because there wasn't consensus on its performance, I tested the optic a bit more than I normally do a new purchase. And I'm glad I did. The results are fascinating.
Image Sharpness
Optimal performance for 17mm was at f/4. Center sharpness was excellent and edge sharpness was very good with no vignetting. I doubt that I would stop down this lens beyond f/8 because of diminishing returns in optical performance due to diffraction. Overall image quality was best at f/2.8, f/4, and f/5.6.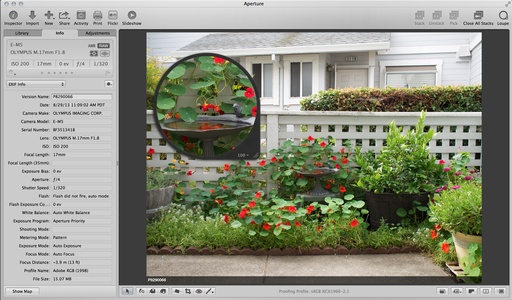 Olympus 17mm f/1.8 prime lens at f/4. Photo by Derrick Story
Where things get interesting is shooting at f/1.8. Center sharpness is still quite good, but the edges of the frame soften a bit and there's some vignetting. Different photographers will interpret this result various ways. For me, I'm thinking that this is the aperture I'd use for portraits with the 17mm.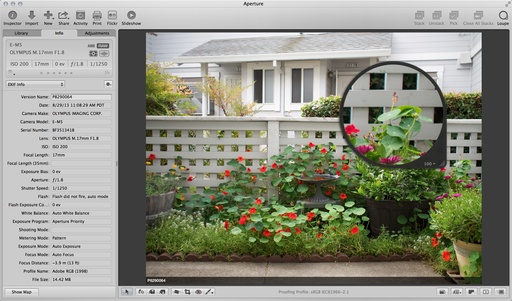 Shooting wide open at f/1.8 softens the corners a bit and introduces mild vignetting.
For everyday shooting, I would use Aperture Priority mode set to f/4, then for portraits, open up to f/1.8. Also if you look closely at the edges of the frame, there is some purple and green color fringing on the fence. I checked this performance against my $1,200 Panasonic Lumix 12-35mm zoom at the same focal length and aperture, and its color fringing was about the same or even a bit more pronounced than the Olympus 17mm. (BTW: I love this fence for color fringing testing!)
Fit and Finish
The physical characteristics of the lens are beautiful. Its all metal construction with "snap focus" mechanism allows me to quickly move from auto focus to manual focusing. Focusing tension is well damped when in snap focus mode. The engraved distance markings are a nice touch.
One feature of this lens that's very important to me is the actual infinity focus setting. Most Micro Four Thirds lenses have a focusing ring that spins forever in either direction. That's fine for autofocusing. But if you are working in the dark, such as photographing a night sky, it's very difficult to get accurate focus. On this lens, you simply rotate the ring all the way to the left until it stops, and you are at infinity. It sounds like a small thing... until you need it.
Bottom Line
I've had a difficult time taking this lens off the silver OM-D. I initially bought this kit as a back-up body for my black OM-D because I don't think we're going to see anything like this camera ever again.
But to be honest, I don't think I've shot with the black OM-D since this purchase. The 17mm f/1.8 lens is addicting. The first picture I published with this lens, Light at the End of the Tunnel on Instagram was a hit with my following.
Personally, I like how the characteristics of the lens change from wide open to f/4. Other photographers who like consistent edge-to-edge sharpness at all apertures won't be as thrilled with this optic. But if you're a creative photographer, a street shooter, or someone who appreciates great design, then I can't imagine you not loving the Olympus 17mm f/1.8 prime lens.
---
Join me on my Instagram site as I explore the world of mobile photography. And now Instagram features 15-second movies too.
Want to Comment on this Post?
You can share your thoughts at the TDS Facebook page, where I'll post this story for discussion.