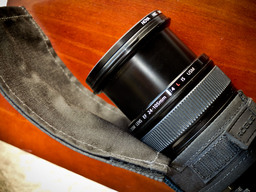 The solution to dealing with strong, directional light that's determined to cause flare in your photograph may already be sitting in your camera bag. If you have a RougeFlag Bounce Card
that you typically use for bounce flash, you can adapt it to serve as a robust lens shade too.
This particular FlashBender includes a black cloth "flag" that attaches over the white reflective surface. I tend to leave my flag attached so I don't lose it. When I'm using the RougeFlag for bounce flash, I remove the black cloth and store it in my bag.
But, if I want serious flare protection for my lens, I leave the black cloth on and attach the FlashBender to my lens using the adjustable strap. In this photo I'm using it with a Canon 24-105mm f/4 L zoom on a 5D Mark II. Unlike a traditional lens hood, the FlashBender can be positioned exactly as needed to block the sun from striking the front of your lens.
I love multi-use. This $29 bounce flash accessory
has already paid for itself many times over. The fact that it can help me fight flare too is just a sweet bonus.
Want to Comment on this Post?
You can share your thoughts at the TDS Facebook page, where I'll post this story for discussion.