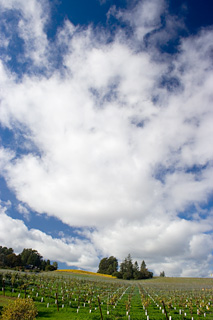 By placing your horizon line low in the frame, you can emphasize a dramatic sky...
One habit that I see many photographers fall into is placing the horizon line in the center of the composition. Sometimes this is appropriate, but often it creates a static image that doesn't "move" the viewer.
Try instead, to consciously lower the horizon line, especially when you have a dramatic sky to work with. At first this may feel awkward. But when you review those shots later at home, I think many of them will be among your favorites. And don't forget to use a polarizer if you have blue skies with billowy clouds.
Technorati Tags: image, landscape, photography, technique, tips