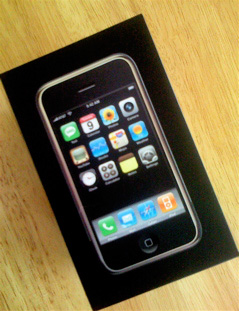 I really like the iPhone and wouldn't dream of parting with mine, but believe me, my affection stems not from the built-in 2-megapixel camera. Here are a few tidbits about the iPhone capture you should know:
You can send pictures you take with the iPhone via the device's Mail application. Your image is sampled down to 640x480 and added as an attachment. You have no other wireless option for sending your pictures. That being said, email is very easy.
The iPhone does, however, communicate well with iPhoto (Mac users only). Connect your iPhone, and it shows up as a tethered camera in iPhoto's Source pane. When you download the images to iPhoto, they come in at the full 1200x1600 resolution. Unfortunately, you don't get any substantial metadata other than the f-stop. So you have no idea about shutter speed, ISO, or focal length.
Taking pictures with the iPhone couldn't be simplier, too simple in fact. You have no settings or preferences at all, so you can't adjust the white balance, ISO, or even use a self-timer. Just point the camera and click the shutter... that's it.
I certainly can appreciate Apple's efforts to keep things simple. And I'm hoping that we get more functionality up the road via software updates. But if you're a big camera phone shooter, you will probably be disappointed with this device as it ships now. We'll see what the future brings.
Shown here is a sample photo I took in the shade of a patio in the middle of the day. I'm guessing that I was too close to the subject for precise focus, and I had no focus confirmation while attempting the shot. So this is what I got.
I do like the big viewing screen for capturing and viewing photos, and if I had just a few controls, I think I could overlook its other shortcomings. In the meantime, I think I'll watch some YouTube videos.
Technorati Tags: digital photography, The Digital Story