Tom Hogarty, Adobe Photoshop Lightroom Product Manager, took the stage in Orlando and showed off some of the new features in the beta release of Lightroom 2.0. Existing users of Lightroom 1 can get the beta today by visiting Adobe Labs and clicking on the download link.
Adobe states on the Labs page: "The Lightroom 2.0 beta program is available for use by all current Lightroom customers. If you don't already own a copy of Lightroom you can download the beta and try it for thirty days. If thirty days is not enough time, Lightroom customers can invite friends to try the beta with them for the full length of the program."
Tom demoed some slick metadata tricks, improved integration with Photoshop, print module additions, and new selective editing tools that allow you to easily work on specific areas of your image. In Lightroom 2, photographers can use brushes for dodging, burning, and other adjustments giving them greater control than possible with global adjustments.
You can watch a 3-minute movie of Tom Hogarty demoing Lightroom 2 where here shows off the new dodge and burn tools.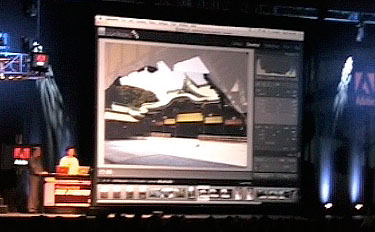 Overall, the response was enthusiastic to the selection tools. If you download the Lightroom 2 beta and want to report your experiences, please post a comment here.

Events! See the TDS Event Calendar for photography workshops, speaking engagements, and trade show appearances.
---
Technorati Tags: Adobe Lightroom, digital photography, Photoshop World, Technology, The Digital Story