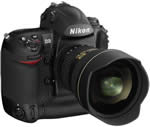 Nikon's new D3 is the most desired DSLR on the market right now. I've heard more people talking about this body than all others combined. Over at PhotographyBLOG, Gavin Stoker reviews and has this to say:
"The Nikon D3 digital SLR is Nikon's first ever full-frame camera, offering a 12.1 megapixel, FX format CMOS sensor. The 9fps continuous mode, even when shooting RAW images, should appeal to all the sports photographers out there, supported by Nikon's next-generation 51-point AF system. The Nikon D3 has an incredibly versatile ISO range of 100-25,800 (yes, ISO 25,800!), new EXPEED image processing engine with 14-bit A/D conversion and 16-bit image processing, and a high resolution 3 inch LCD screen with 920,000 pixels. Other standout features include Live View with Autofocus, support for the DX-format crop mode, which means that DX lenses can be used with the D3, and HDMI video output for connection to high-definition video systems. All of this and more is housed in an environmentally-sealed magnesium alloy body. With a street price of over £3,000 / $5,000, the Nikon D3 certainly doesn't come cheap, but even if you can't afford it, the D3 does give a tantalising glimpse of what the future might hold for Nikon's more affordable DSLR models."
You can read the complete review of the Nikon D3 here. Now we're waiting to see if Canon can answer...