How often do you get to hang out with others who share your passion for photography, visit interesting places, learn new techniques, and enjoy good food all along the way? Probably not often enough. We can help you with that. The 2018 TDS Workshop Season is ready for your review. And we think you're going to like what you see.
Great Locations
In April you'll be immersed in an urban adventure with Derrick Story and Mike Boening for the San Francisco Street Photography event. Then in June, we're flying high by combining coverage of the Sonoma County Hot Air Balloon Festival combined with our first ever drone photography workshop. We wrap up the season in late September by exploring the magical Lassen Volcanic National Park and the lyrical Burney Falls. Plus, we have special surprises planned for each event.
Online Classes Too!
For those who plan on staying home this year, we've also launched the second season of our Nimble Classroom Series with online classes for Luminar, Capture One Pro 11, and Photos for macOS High Sierra. Just like with all of our workshops, we limit the number of participants to ensure a quality experience.
Reserve Your Spot Now
By getting on the reserve list via the TDS Workshops page, you can save your place at the front of the line. Those on the reserve list have the opportunity (but not the obligation) to secure a seat for the event of their choice. Using the Send Me Info form on the workshops page, simply choose the workshop you're interested in from the popup menu, then enter your name and email. Click on the Submit button. That's all there is to it.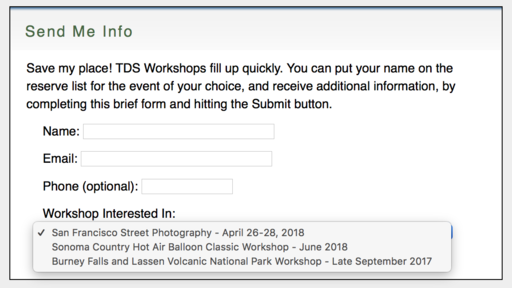 I'll send you a confirmation letter to let you know you're on the list. At that time, you can respond with any questions you have about the event of your choice. Reservation forms with itineraries typically go out 90-120 days before the event. At that point you can sign up for the workshop and pay the course fees.
We specialize in personal service. So we're here to answer any questions you have. Use the Send Me Info form to get the ball rolling.
Hope to work with you in 2018!
You can share your thoughts at the TDS Facebook page, where I'll post this story for discussion.