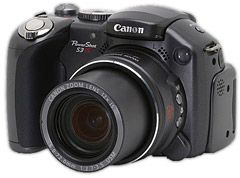 DP Review has just published an in-depth report on the tantalizing new Canon PowerShot S3 IS. The one feature that catches everyone's eye is the 12X optical zoom... and it's a good one too. Canon has bundled image stabilization with this high magnification creating a terrific "long range" shooter in a compact body.
The swing out "tilt n swivel" screen is great for capturing at a variety of angles, and is a plus for movie mode. Another great feature, in my opinion, is that the camera is powered by 4 AA NiMH cells instead of a proprietary Lithium battery. In an emergency on the road, you can always substitute regular AAs if your NiMHs run out of gas. Canon does not, however, provide batteries with the camera, so add this to your budget.
On the downside, there's no RAW shooting mode. I'm disappointed by this omission. This is a top quality camera that could be used for assignment. The sensor provides 6 megapixels of resolution, which is plenty for most situations. The lack of a RAW mode hamstrings the S3's potential.
That complaint aside, this is an amazing camera that is bound to draw lustful glances from any serious amateur. You can purchase the S3 IS for about $460. That's a lot of camera for the money... especially in such a handsome, compact, rugged body.
Technorati Tags: camera, digital photography, equipment, product review