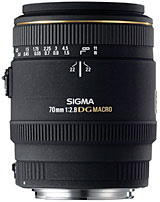 Sigma's new 70mm macro lens is approximately 105mm on most APS-sensor DSLRs. Since it focuses from infinity to really close up (1:1 macro), it can serve double duty for portraits too.
Initially it will be available for Canon, Nikon, and Sigma mounts (probably in August). But not long after you'll be able to get the lens for Sony and Pentax DSLRs too. It's a handsome lens with a 62mm front filter ring, super multi-layer lens coating, special low dispersion glass, and an included lens hood.
Street price for the Sigma 70mm should be around $400, which is reasonable for a high performance macro lens that can be used for portrait work also.
Technorati Tags: digital photography, lens