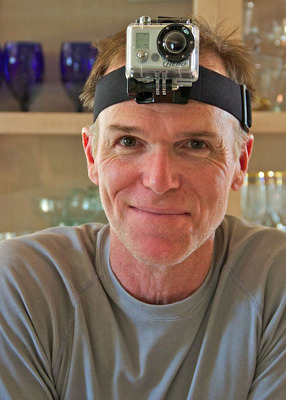 If you want to show people what you've experienced on a bike, surfboard, skis, or just rambling down a hiking trail, then you should check out the GoPro HD HERO Camera
($299) that provides an amazing POV experience for your audience.
Operation couldn't be simpler. Just mount the camera on your helmet or anywhere else that seems appropriate, choose the resolution and frame rate you want (it records up to full HD at 30 fps with audio), start the camera, and begin your adventure. The HD Hero records to a standard SD card in H.264 format that can be played on a Mac or Windows computer.
I had no problem dumping the video files into iMovie and producing this YouTube presentation of a ride that Pat and I took together (that's Pat above modeling the HD Hero so you can see what it looks like in its protective housing).
I was very impressed with the footage that we captured with this little device. Some of its feature highlights include:
Professional-grade full HD video up to 1080p
60 frames per second option in 720p and WVGA resolutions provides slow motion playback
Videos can be easily edited with iMovie or Windows Movie Maker
Industry's widest angle (170º) and sharpest lens captures more of the scene
Includes easy to apply mounts for attaching camera to virtually all helmets
With the weather finally warming up here in Northern California, who knows what escapades we'll be able to record this Spring.
---