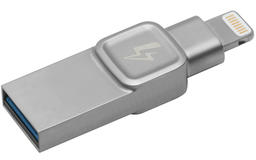 Kingston is off to a solid start with their new flash storage for iOS devices called The Bolt. It's a thumb-sized gizmo with a Lightning connector on one end and USB 3 on the other. You can use it to offload videos and photos from your iPhone and iPad.
The Bolt has its own app to control operations. It works best if you launch the app first, then insert the Bolt into the Lightning port. You're greeted with a nicely designed display showing the open storage available on both your iPhone and the Bolt itself. You can then transfer images or videos, capture directly to the Bolt, or view the content on the device.
In theory, you should be able to share images directly from Photos and other apps to the Bolt, but my testing yielded inconsistent results. The best path at this early stage of development is to tap Transfer on the Bolt app, and choose from one of five options that include a full dump of images and videos, favorites only, or the one that I recommend, handpicking images for copying.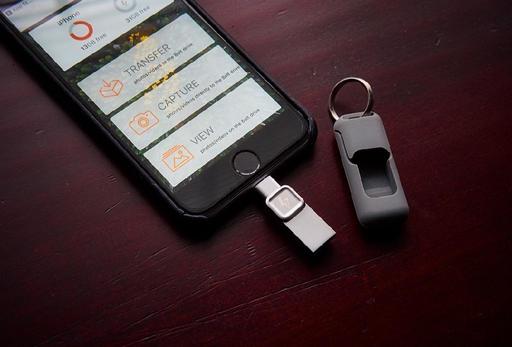 At this point in its life cycle (version 1.2), I wouldn't wholeheartedly trust the Bolt as my sole backup. But in conjunction with other strategies, such as iCloud, it's very handy as an additional storage device for important RAW files and videos. Certainly it provides extra peace of mind when working in the field, especially if Internet connectivity isn't available.
Plus, you can then plug it into your Mac via its USB 3 connector, and all of those images and movies can be dragged and dropped to your computer. I also set up a Transfer folder on the Bolt that allowed me to copy images and movies from the Mac that could be saved to my iOS devices. Content flows both ways with this device.
The Bottom Line
The Bolt is a handsome, compact, well-designed flash drive that provides another level of flexibility for mobile photographers. It's easy to move pictures and videos from Mac to iPhone and vice-versa, backup important movies and photos, and free up space on iOS devices in a pinch.
Overall performance was stable, but I anticipate that it will improve with upcoming software updates. The rare few times the Bolt did stall, I simply unplugged it, then reinserted it, and all worked fine. I would also like to see more flexibility in the Transfer mode. Right now, we can choose from our Camera Roll. But I'd like to be able to navigate to specific Albums as well.
The Bolt is available in with 64 GBs of storage for $89. There are also 32 GB models ($59) and 128 GBs for $119.
I'm keeping mine on my keyring when I'm out about with my iPhone and mirrorless camera. The Bolt provides me with a little extra peace of mind for my important photos and movies.
---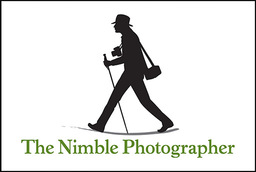 The Bolt has a high Nimbleosity Rating. What does that mean? You can learn about Nimbleosity and more by visiting TheNimblePhotographer.com.
Want to Comment on this Post?
You can share your thoughts at the TDS Facebook page, where I'll post this story for discussion.