Not only have I been working with a new Olympus E-M1 Mark II and a trio of PRO prime lenses, I've also been introduced to a new backpack to house them in: the The Wandrd 21-Liter PRVKE Photography Backpack. I wasn't familiar with Wandrd products before, so it's been fun to learn about their carrying solution.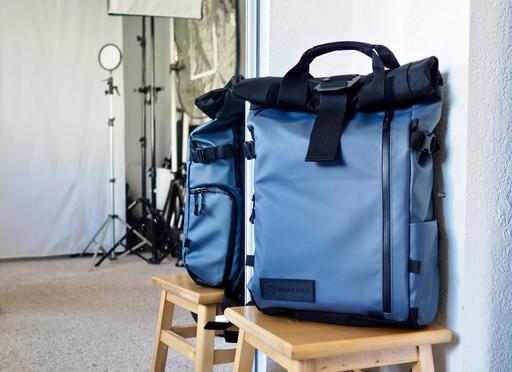 Front view of the backpack. You can see the side access reflected in the mirror, and the water bottle pocket on the foreground side. Notice the weather-resistant zipper for the large front pocket. And of course, there's the rolltop style that stays compact or expands as needed.
In many ways, the Wandrd PRVKE looks and feels like an adventure bag. It has an excellent harness system that's very comfortable. The bag is designed with durable, water resistant Tarpaulin and Ballistic 1680 D Nylon with robust zippers. And the rolltop opening allows you to add an extra 5 liters of storage if you need it.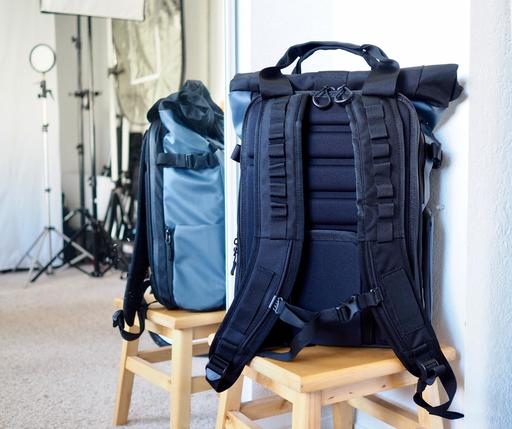 The harness system is well-designed and quite comfortable.
But I've also been impressed with what a good travel bag it is. The Wandrd PRVKE has a slim profile that slides easily under the seat in front of you on the plane, multiple access points for camera gear and laptop, and pockets in all the right places. The top handle is large enough to serve as a trolly sleve on your roller suitcase as well.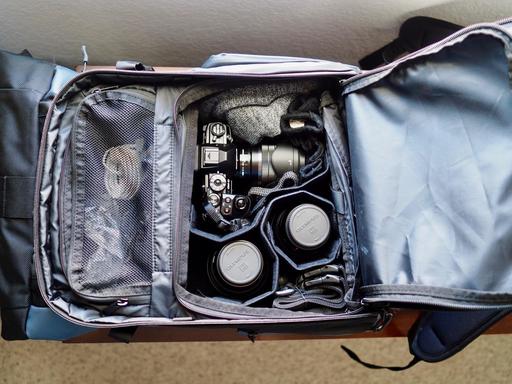 The removable camera cube plus an additional storage pocket for accessories.
Inside, there's a removable camera cube that's large enough to hold a mirrorless or DSLR kit. You can access the gear inside the camera cube by opening up the back of the bag, or through a side pocket, which is more convenient when you're in the field shooting. I found it easier to load the bag through the back, and use it through the side and top access.
Then there are the nice touches: Fleece-lined cell phone pocket, secure passport pocket, lens cap holder, expandable water bottle/tripod pocket, large outside front pocket that I use for my jacket, dedicated rain cover storage, and separate storage for both laptop and tablet computers. This is a very well thought out backpack.
Now that I'm back in the city, the Wandrd PRVKE seems at home here as well. I can carry my everyday gear, grab the top handles, and go. It feels comfortable over one shoulder too.
There's a larger version, the 31 liter, but I like the 21 liter. It's big enough for what I need to transport without being bulky. I recommend the Photography Bundle that includes the backpack, rainfly, accessory straps, camera cube, and waist band. That kit costs $264.
After a few weeks of use, I have to admit that I'm hooked on this backpack. I'm already planning on using it for my next trip in January. Looks like we're going to be spending the Winter together.
You can share your thoughts at the TDS Facebook page, where I'll post this story for discussion.