This week on The Digital Story Photography Podcast: Delicious Monochromes from Your Digital Camera, Shining a Light on the Canon T6 Sensor Issue, Lightroom CC Tip, and One-Step Film Developing (that isn't Polaroid) - All of this and more on today's show with Derrick Story.
Weekly Update - "Canon T6 Sensor Issue" - Roger Cicla writes, "... 4 of the Canon T6s and 2 of the T6i cameras we received had to be sent back because of a defect in the sensor stack (the layers of filter glass over the sensor). This is out about 10 copies of each; the others were absolutely perfect.
The affected cameras all had a dramatic pattern that at first we thought was oil or dust on top of the sensor glass." (Source: LensRentals.com)
In other news... "Developing your film in one step" Photography startup New55 has released R3 Monobath, a new photochemical that makes developing film a one step process. Monobath films have been used in instant film, which could be a leading reason New55 is working on a monobath developer -- New55's existence is driven by the desire to bring back to life the aesthetic of the no longer produced Polaroid Type 55 film. (Source: Imaging-Resource.com)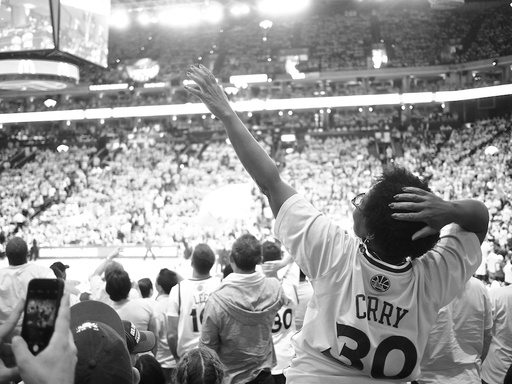 "Warriors Fan, Oracle Arena" by Derrick Story.
Story #1 - "Delicious Monochromes from Your Digital" - I've talked about film simulation modes in the past, but some cameras allow you to build your own B&W profiles. I was "street shooting" again at Oracle Arena on Sunday, but this time in B&W using my own formula.
On my OM-D E-M10 (with Panasonic 20mm f/1.7), I began by going to Shooting Menu 1 and choosing Picture Mode. I then navigated to the Monotone option, where I could set parameters for Contrast (+1), Sharpness (+1), B&W Filter (Yellow), Picture Tone (Neutral), and Gradation (normal). I then shot in RAW+Jpeg. The results were beautiful!

Story #2 - "National Photography Month" National Photography Month was officially recognized by Congress in 1987. The month-long observance includes photography contests and other activities throughout the country. Rocky Nook is celebrating by offering $35 eBook Bundles on the following topics:
Travel Photography
Bird Photography
Landscape Photography
Beginner Photography
Bruce Barnbaum Complete Set
Candid Moments Photography
You can learn more by visiting the Rocky Nook web site.
Story #3 - "Reservation Forms Have Been Sent for the TDS Fall Color/Safari West Photo Workshop" - The event begins on the evening of Friday Oct. 23, and it concludes on Sunday Oct. 25th in Sonoma County, CA. If you were on the reserve list, you should have received a reservation form. If not, please contact me. If you want a reservation form, visit TDS Workshops Page and use the Send Me Info form.
Story #4 Lightroom CC Tip - Get to Know the New Filter Brush - I've been using the graduated screen much more since Adobe added the Filter Brush. Once you add the screen, click on Brush (in the same box), click on Erase (at the bottom of the box), and paint away the areas you don't want affected by the screen. This is perfect for buildings and trees that stick up into the sky you want to darken.
Virtual Camera Club News
Thanks to everyone who recently reviewed the TDS Podcast in iTunes!
BTW: If you're ordering through B&H or Amazon, please click on the respective ad tile under the Products header in the box half way down the 2nd column on thedigitalstory.com. That helps support the site.
Download the Show
In addition to subscribing in iTunes, you can also download the podcast file here (30 minutes). You can support this podcast by purchasing the TDS iPhone App for only $2.99 from the Apple App Store.
More Ways to Participate
Want to share photos and talk with other members in our virtual camera club? Check out our Flickr Public Group. And from those images, I choose the TDS Member Photo of the Day.
Podcast Sponsors
lynda.com - Learn lighting, portraiture, Photoshop skills, and more from expert-taught videos at lynda.com/thedigitalstory.
Red River Paper -- Keep up with the world of inkjet printing, and win free paper, by liking Red River Paper on Facebook.
Want to Comment on this Post?
You can share your thoughts at the TDS Facebook page, where I'll post this story for discussion.