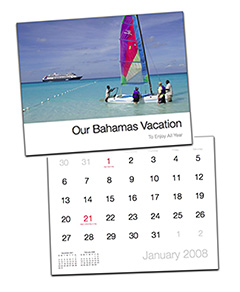 Sooner or later, it happens to us all. We have to pull together a nice gift for people we care about... at the last minute! We could re-gift, but somehow that feels wrong for this particular occasion. These folks deserve better. Something special. A handmade present.
One of my most popular articles this time of year is the original Last Minute Holiday Gift Ideas. There are some good ideas there, so be sure to take a look. But wait... there's more.
Custom DVD of a Family Event -- Nearly everyone has a DVD player these days, and most of us have burner to create them. If you have a meaningful event in your photo archives, build a quick slideshow, burn it to DVD, print out a photo for the cover, and you have a custom present that will hold meaning for years to come.
Calendar by You -- iPhoto has a great calendar builder. It's designed to purchase through an online service. But you probably don't have time for that. So create your calendar, then use the Print command. When the print dialog box opens, choose "Save as PDF" from the PDF popup menu in the lower left corner. You'll now have a high resolution master that you can print out on your inkjet printer. (You'll have to print one page at a time and use paper that lets you print on both sides. Take a look at an existing calendar for the pattern.) Punch a few holes, bound with the appropriate material (such as twine for a harvest theme), and you have a *really nice* gift to share at present opening. You may even want to sign it...
Custom Note Paper -- All you need for this gift is some decent paper. Design a custom note page that leaves lots of room for writing. I like to put the name of the person receiving the gift in one corner with a nice little photo or graphic in the opposing corner. Print out the sheets so you can place "2 up" or "4 up" on an letter size sheet of paper. Then trim and box. You're in business!
And finally, I wish you and your family a happy holiday season. The best present of all is your presence...
Technorati Tags: digital photography, The Digital Story, Holiday Gifts