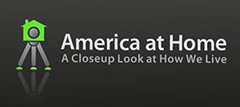 Rick Smolan and the team that produced A Day in the Life of America: America 24/7, is tackling their biggest challenge to date: "America at Home."
I was down at Rick's office recently to learn about this endeavor. It's really quite exciting, and you can become a part of it. Basically, it works like this:
The entire American population is being invited the week of September 17th-23rd to participate by taking digital photographs of what "Home" means to them, and then submitting them to MyAmericaAtHome.com. The end result will be a mixture of photos from the public and the 100 professionals who will also be capturing images of what defines the home. The photos will then go into a coffee table book titled, "America at Home" to be released in March of 2008. When the book is released, buyers will have the option of personalizing it by putting their own family pictures on the photo jacket.
If you have a good idea for an entry, start making plans now for your shoot the week of September 17. I think it would be very exciting to have your image included in this book. I will cover this project more once it gets underway.
For more information, you can also read the official press release.
Technorati Tags: digital photography, The Digital Story, America at Home