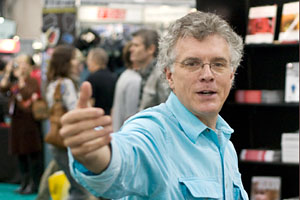 Some of the best moments for me in New York City was spending time with Rick Sammon, who is passionate about teaching photography. His travels all over the world have enabled him to compile lots of great tips and tricks. He shares some of his favorites in an interview we had in the O'Reilly booth.
Photo of Rick Sammon by Colleen Wheeler captured with a Canon 10D, 50mm lens, ISO 800, 1/90th at f-2.5.

Events! See the TDS Event Calendar for photography workshops, speaking engagements, and trade show appearances.
---